Forgotten Realms Campaign Setting (AD&D)
Return to AD&D Central
Campaign Sets | Classic FR series| Accessories - Lettered | Accessories - Unlettered | Modules - Lettered | Modules - Unlettered | Arcane Age: Netheril, Cormanthyr, Myth Drannor | Bloodstone | Horde Campaign | Kara-Tur | Maztica | Raven's Bluff | Volo's Guides | Waterdeep / Undermountain
BROWSE MY FORGOTTEN REALMS ITEMS CURRENTLY IN STOCK
The brainchild of Ed Greenwood, the Forgotten Realms was mainly seen in Dragon Magazine articles in the early years. In 1987, TSR published FR fiction and introduced the FR campaign set. Before long, The Forgotten Realms transformed into a "Shared World," peopled and chronicled by a chorus of authors. By the mid-'90s -- with scores of paperbacks, boxed sets, hardbacks, accessories, and adventures published -- the Forgotten Realms had blossomed into one of the most intricately detailed worlds in fiction.
More than detail, the multitude of writers blessed Faerun with variety, adopting all corners, creating the life of a Babylon of cultures. The Dales, the West, the Shining South, there's a place for any story in the Forgotten Realms.
Waterdeep was always my love... Paris, London, Rome, and Carthage, all in one very large city. (Not to mention AD&D's biggest dungeon underneath!) Explore, and enjoy!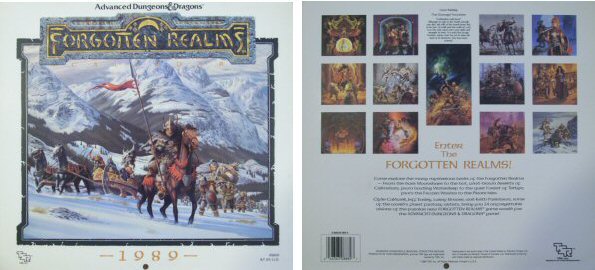 1989 Advanced Dungeons & Dragons Calendar: Forgotten Realms
1988 ... TSR 8889 ... ISBN 0880385804
Check Wayne's Books Inventory

Buy at Amazon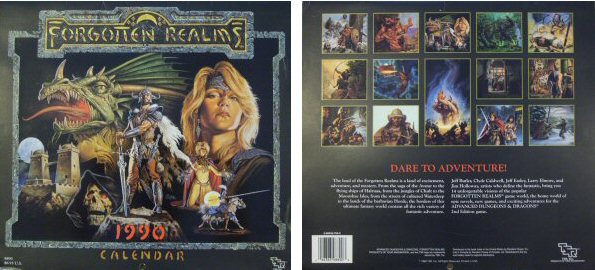 1990 Advanced Dungeons & Dragons Calendar: Forgotten Realms


Jeff Butler, Clyde Caldwell, Jeff Easley, Larry Elmore, Jim Holloway.

1989 ... TSR 8890 ... ISBN 0880387068

Check Wayne's Books Inventory

Buy at Amazon










Wizards of the Coast owns (and holds trademark to) the AD&D game and the Forgotten Realms in all forms.





| FR Campaign Sets | Accessories - FR Series | FR Accessories - Lettered | FR Accessories - Unlettered | FR Modules - Lettered | FR Modules - Unlettered | Arcane Age: Netheril, Cormanthyr, Myth Drannor | Bloodstone | Horde Campaign | Maztica | Raven's Bluff | Volo's Guides | Waterdeep / Undermountain | Menagerie Campaign Characters |

---
| CORE RULES | Al-Qadim | Birthright | Dark Sun | Dragonlance | Forgotten Realms | Greyhawk | Kara-Tur | Lankhmar | Monstrous Arcana | Mystara | Planescape | Ravenloft | Spelljammer | Non-TSR AD&D | AD&D - Spanish/Español |
---
| 2300 AD | 7th Sea | AD&D | Aftermath! | Albedo | Aliens | Arduin | Alternity | Amazing Engine | Amber Diceless | Ars Magica | Atlantis | Babylon 5 | Battletech | Boardgames / Wargames - Other | Boot Hill | Buck Rogers | Bushido | Call of Cthulhu | Castle Falkenstein | Chill | Chivalry & Sorcery | Conan | Cyberpunk | Cyborg Commando | Dark Conspiracy | DC Heroes | Deadlands | Doctor Who | DragonQuest | Dream Park | Dune | Dungeons & Dragons | Dying Earth | Earthdawn | Elfquest | Elric / Stormbringer | Everway | The Fantasy Trip | Foreign Language Roleplaying Games | Game of Thrones | Gamma World | GangBusters | Gear Krieg | Ghostbusters | GURPS | Harn | High Fantasy | Indiana Jones | James Bond | Jorune | Judge Dredd | Justifiers | Living Steel | Lords of Creation | Man, Myth & Magic | Marvel Super Heroes | Middle Earth Role Playing | Midkemia | Military Roleplaying Stockpile | Millennium's End | Miscellanea | Morrow Project | Mythus - Dangerous Journeys | Nightlife | Pendragon | Phoenix Command | Powers & Perils | Red Sonja | Renegade Legion | Riddle of Steel | Ringworld | Robotech | Rolemaster | Runequest | Shadowrun | Shatterzone | Sovereign Stone | Space 1889 | Space Master | Space Opera - Other Suns | Star Ace | Star Frontiers | Star Trek | Star Wars | Super Hero RPGs | Talislanta | Talisman | Tekumel | Terminator 2 | Thieves' World | Timemaster | Top Secret | Traveller | Tribe 8 | Tunnels & Trolls | Twilight: 2000 | Villains & Vigilantes | Warhammer | Whispering Vault | Willow | Witchcraft | Ysgarth | CAMPAIGN BUILDING | RPG MAGAZINES | Avalanche Press | Avalon Hill | Bard | Chaosium | Columbia Games | Dream Pod 9 | Fantasy Games Unlimited (FGU) | FASA | Flying Buffalo | Game Designers Workshop (GDW) | Gamelords | Gamescience | Games Workshop | Judges Guild | Leading Edge Games | Mayfair Games | Metagaming | Pacesetter | Palladium | SPI | Steve Jackson Games | Tri Tac | TSR | Victory Games | West End Games | White Wolf | Wizards of the Coast | Yaquinto Publications |
---
| Return Home | What's New | Contact WaynesBooks.com |