Top Secret: Espionage Role Playing Game - TSR


Top Secret S.I. ~ Top Secret: New World Order

Espionage! - Danger International

Top Secret: Player-made GM aids

BROWSE MY TOP SECRET ITEMS CURRENTLY IN STOCK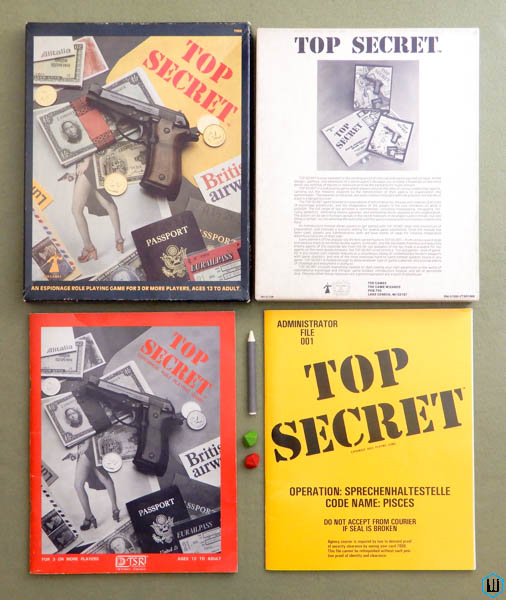 Top Secret [BOX SET]
In 1980 TSR introduced its earliest successful non-fantasy (ignoring the science-fantasy of Gamma World) role-playing game, Top Secret. Developer Merle Rasmussen recreated the world of James Bond-type espionage, it gained a core of loyal players.

The 2nd edition book was published in 1981, and though largely identical, incorporated quite a bit of errata and was completely re-typeset in a different font. The 1st edition book is relatively uncommon, though it would only be of interest to collectors since it did not have the benefit of the rules fixes. In 1983, the box received graphics updates, dropping the older TSR "wizard" logo in favor of the TSR "block" logo.

For more info and photos, see the post at my blog:

TOP SECRET RPG (1980-3): 1st and 2nd edition – The evolution of the black box

In addition to the red rulebook, the TS001 (Sprechenhaltestelle) module comes with the box set.

Here's a great write-up of the factions in TS001 for the Administrator

-Wayne

"TOP SECRET is your passport to the exciting world of international espionage and intrigue. All the danger, glamour, and adventure of a secret agent's life await you as today's headlines or the more exotic spy settings of movies or television provide the backdrop for every mission.
TOP SECRET is a role playing game where players assume the roles of various undercover agents, carrying out the missions assigned by the Administrator of their agency or organization (the gamemaster). The rewards can be great, but every mission is fraught with risk and peril, for the life of a spy is a dangerous one!
The TOP SECRET game booklet is a sourcebook of information for the play and creation of all sorts of espionage adventures, and the imagination of the players is the only limitation on what is possible. The full range of spy activities is represented — including investigating, smuggling, rescuing defectors, infiltrating enemy agencies, and eliminating those opposed to the organization. The action can be set in foreign capitals or the secret hideouts of deranged supercriminals, but one thing is certain: no one will know the outcome until the game is played and true loyalties come to the fore!
An introductory module allows players to get started with TOP SECRET after only a minimum of preparation, and provides a scenario setting for several game adventures Once the module has been used, players and Administrators both will have plenty of ideas for creating imaginative adventure missions of their own.
Every element of the popular spy thrillers can be found in TOP SECRET — from vicious guard dogs and devious traps to secretive double agents, turncoats, and the inevitable charming and seductive enemy agents of the opposite sex! Even the far-out gadgetry of the spy trade is available for top agents on the most deadly missions. But TOP SECRET is not strictly a "fun and games" style of game, for it also boasts such realistic features as a voluminous listing of contemporary modern weapons with game statistics, and one of the most extensive hand-to-hand combat systems found in any game. TOP SECRET is flexible enough to allow whatever type of game is desired, and provide plenty of challenge and enjoyment in doing so.
TOP SECRET includes everything needed to start playing your own adventures in the world of international espionage and intrigue: game booklet, introductory module, and set of percentile dice. The only other things necessary are a good imagination and a spirit of adventure!"

1980 (1st edition). 1981, 1983 (2nd edition) ... TSR 7006 ... ISBN 0880383488

Check Wayne's Books Inventory

Amazon: Box Set ~ TS001 ~ TS Rulebook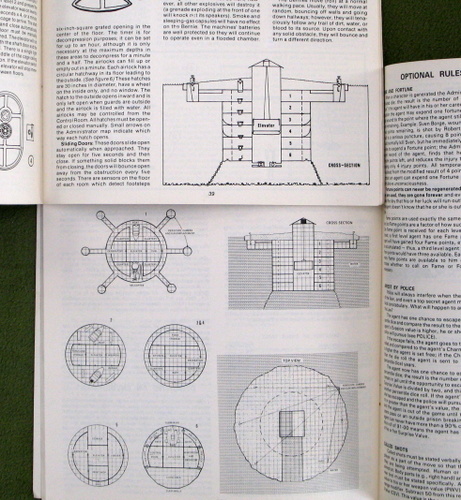 Top Secret Administrators will notice the sample adventure location in the rulebook. The maps show various views of a floating "island" hideout on page 40 or 44 (depending on TS edition). Not much detail is given.

This adventure seed is adapted from the centerfold module in Dragon Magazine, issue 48 (April 1981): Doctor Yes. In the module, the villain's lair has much more detail.

In the Top Secret book, the sample maps are completely redrawn, more crisp in appearance.

-Wayne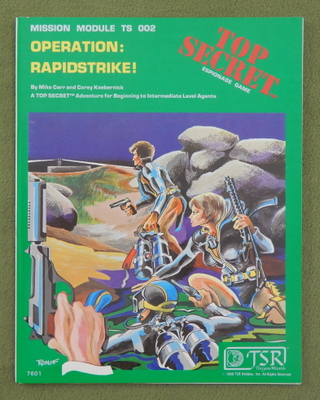 Operation: Rapid Strike [Rapidstrike] (TS002)
"Nobel Prize-winning scientist Doctor Felix Fendelmann has disappeared from his laboratory/retreat in Switzerland. Genevieve Larreau - known to have contacts in the underworld, and suspected to have been involved in the industrial espionage of the Texacron Chemical Corporation - was sighted in the same area of Switzerland shortly before the disappearance of Dr. Fendelmann. Mademoiselle Larreau is reported to have developed a new and potentially dangerous "mind-expanding" drug. Dr. Fendelmann's Nobel Prize was for his research on chemicals and their effects on the mind. Mission: Neutralise Larreau and her operation at all costs!"

1980 ... Mike Carr & Corey Koebernick ... 32 pages ... TSR 7601 ... ISBN 0935696571

Check Wayne's Books Inventory

Amazon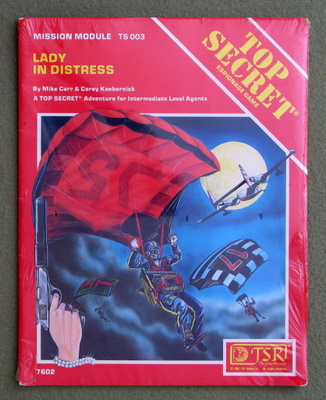 Lady in Distress (TS003)
This module does a brilliant bait-and-switch on the players, to the point of having the referee handing out a briefing on a mission they'll never start. Their mission is aborted, and are instead sent to a luxury liner that's been hijacked...

See a similar GM smoke-n-mirrors setup in another RPG:
Year of the Phoenix – Catch your players unawares

-Wayne

"Mission aborted! On their way to raid the secret headquarters of a gang of international terrorists, a group of top agents is diverted to an even more critical danger. A luxury liner carrying microbiologist Dr. Miguel Salcedo, and samples of a new and deadly strain of bacteria, has been captured by terrorists. The agents must race against time to neutralise the terrorist, rescue the doctor, and regain the bacteria before it can be released upon he unsuspecting world."

1982 ... Mike Carr & Corey Koebernick ... 24 pages ... TSR 7602 ... ISBN 0935696911

Check Wayne's Books Inventory

Amazon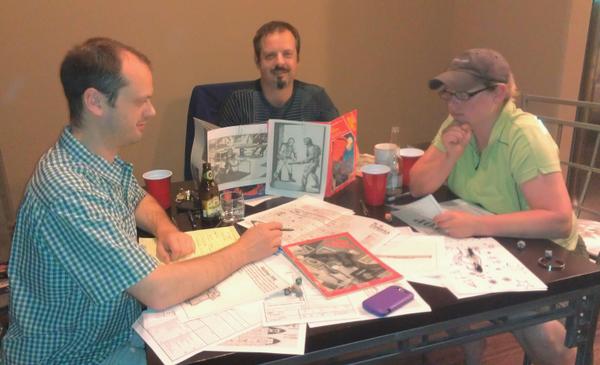 TS003 Lady in Distress (May 19, 2012): Me and my sister and brother.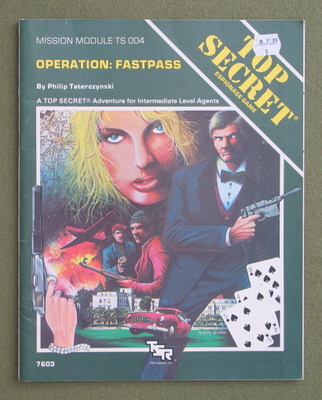 Operation: Fastpass (TS004)
"Andrei Lerekhov, communist code expert, has sent a secret message indicating a desire to defect. Lerekhov is the author of several military codes and has information of vital importance. He will be a guest speaker at a conference in Budapest. It is your mission (whether you accept it or not!) to assist Lerekhov in defecting and to ensure his safe arrival in a friendly country. Team personnel are authorised to use any means necessary to accomplish this mission."

1983 ... Philip Taterczynski ... 32 pages + 3-panel cover ... TSR 7603 ... ISBN 088038011X

Check Wayne's Books Inventory

Amazon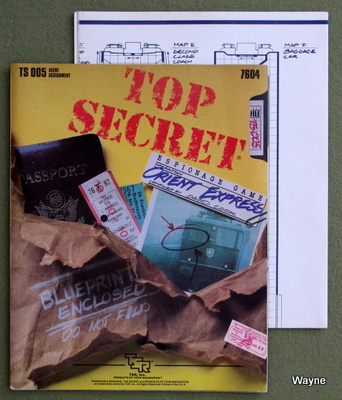 Orient Express (TS005)
"In this module, the players are sent to evaluate a new method of running operations - using the interlinking system of trains throughout Europe and the Balkans. The module includes 6 major on-train operations to test the abilities of your players. The module comes with a 32 page operations file, a large scale full color map of train targets, a map of the European train system, and 24 cut-out cardboard agent figures."

1983 ... David Cook ... 32 pages + map ... TSR 7604 ... ISBN 0880380411

Check Wayne's Books Inventory

Amazon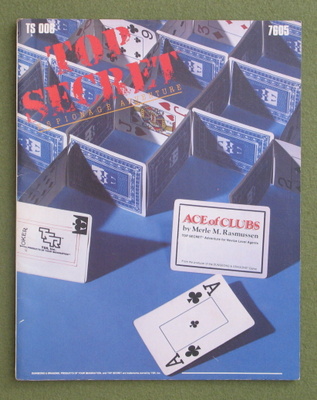 Ace of Clubs (TS006)
"Operation Ace of Clubs is an introductory adventure for novice level agents. The Ace of Clubs was built in the United States by the agency as an operating front. Taylor, Ace of Clubs administrator, was assigned by HEARTS to operate the resort front as an exclusive adventure sports and gambling resort for members only."

1984 ... Merle Rasmussen ... 32 pages ... TSR 7605 ... ISBN 0880380438

Check Wayne's Books Inventory

Amazon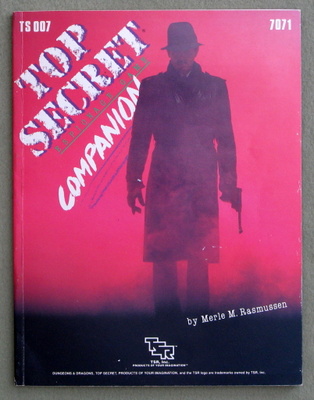 Top Secret Companion (TS007)
"FROM: Vostok
TO: Rezident Samovar
CONCERNING: Reconnaissance of "TOP SECRET Companion"
Cursory examination of target, document reveals that "TOP SECRET Companion" contains the following features:
# Methods for determining education, finances, and other background statistics about agents;
# Explanations of areas of knowledge;
# Details on Bureau organization, including Operations and Technical sections;
# Travel arrangements, schedules, and cost evaluations;
# Information concerning new weapons and special devices;
# An instruction manual codenamed "Espionage College Course Handbook";
# Analysis of timetable, goals, and communication networks behind "Operation: MELTDOWN."
EVALUATION: "TOP SECRET Companion" contains complete details on all aspects of administration, bureau operation, and agent management that have been sought since 1980. Document is invaluable.
RECOMMENDATION: Obtain document at any cost.
VERIFY SECURE CODE END COMMUNICATION
XX0155L 0 0 /M038"

1985 ... Merle M. Rasmussen ... 96 pages ... TSR 7071 ... ISBN 0880381027

Check Wayne's Books Inventory

Amazon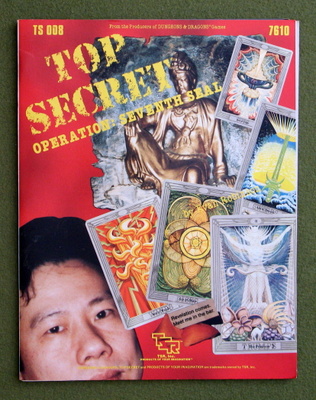 Seventh Seal (TS008)
"The Four Horsemen Ride!! Can your agents discover the identities of the Four Horsemen and neutralise their plan to destroy Los Angeles with a thermonuclear device? Exactly what meaning does the death of a local police detective have? Care for a fortune cookie or a Tarot reading? Hopefully your agents will have what it takes to complete…"

1985 ... Evan Robinson ... 32 pages + 3-panel cover ... TSR 7610 ... ISBN 0880381345

Check Wayne's Books Inventory

Amazon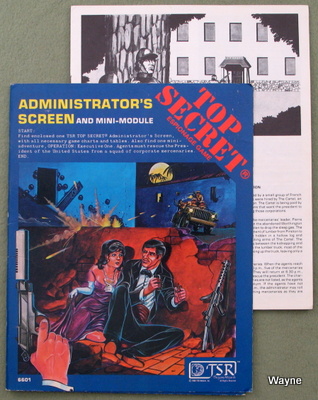 Administrator's Screen & Mini Module
Screen includes module Operation: Executive One. "Agents must rescue the President of the United States from a squad of corporate mercenaries."

1982 ... 8 pages + 3-panel cardstock screen ... TSR 6601 ... ISBN 0935696792

Check Wayne's Books Inventory

Amazon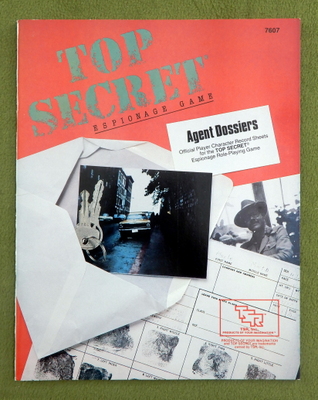 Agent Dossiers
1983 ... TSR 7607 ... ISBN 0880380705
Check Wayne's Books Inventory

Amazon

Top Secret / New World Order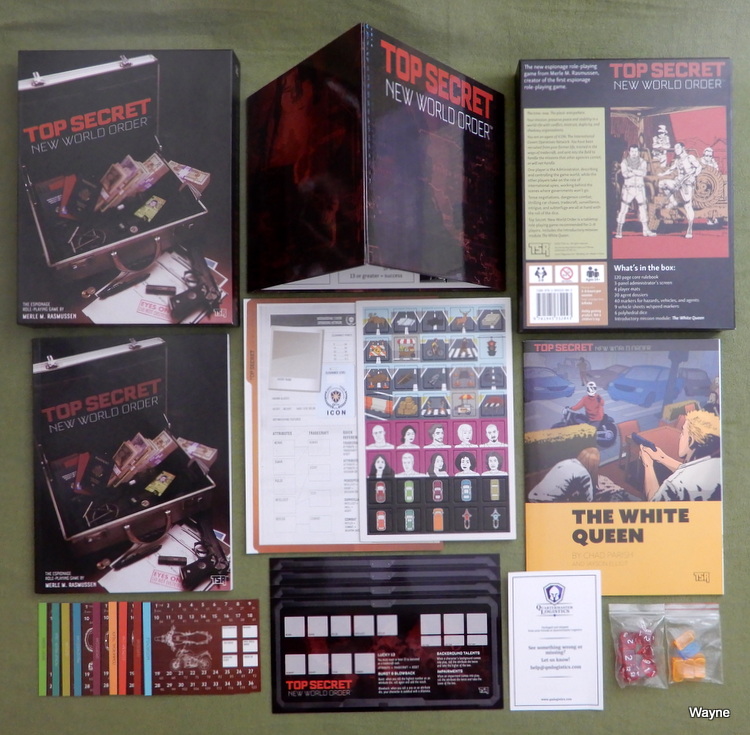 Top Secret / New World Order [BOX SET]


The new espionage role-playing game from Merle M. Rasmussen, creator of the first espionage role-playing game.

The time: now. The place: everywhere.

Your mission: preserve peace and stability in a world rife with conflict, mistrust, duplicity, and shadowy organizations.

You are an agent of ICON: The International Covert Operatives Network. You have been recruited from your former life, trained in the ways of tradecraft, and sent into the field to handle the missions that other agencies cannot, or will not handle.

One player is the Administrator, describing and controlling the game world, while the other players take on the role of international spies, working behind the scenes where governments won't go.

Tense negotiations, dangerous combat, thrilling car chases, tradecraft, surveillance, intrigue, and subterfuge are all at hand with the roll of the dice.

Top Secret: New World Order is a tabletop role-playing game recommended for 2–8 players.

2017 ... TSR, Inc. TSE-001 ... ISBN 1945332042

Check Wayne's Books Inventory

Buy at Amazon

The core set - and several accessories - are available in PDF at DriveThruRPG.






Espionage!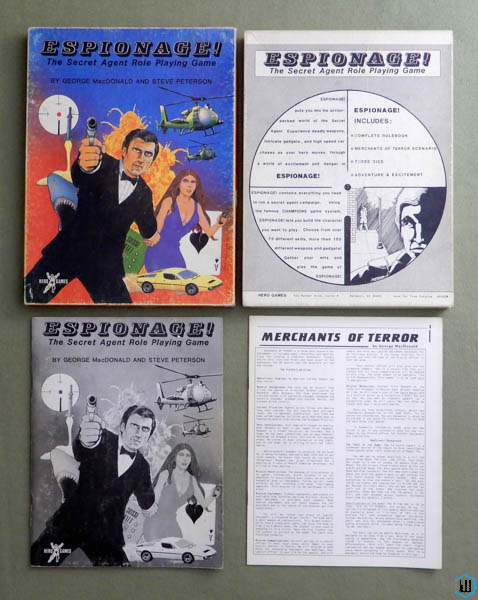 Espionage! Role Playing Game [BOX SET]
"ESPIONAGE! puts you into the action-packed world of the Secret Agent. Experience deadly weapons, intricate gadgets, and high speed car chases as your hero moves through a world of excitement and danger in ESPIONAGE!
ESPIONAGE! contains everything you need to run a secret agent campaign. Using the famous CHAMPIONS game system, ESPIONAGE! lets you build the character you want to play. Choose from over 75 different skills, more then 150 different weapons and gadgets! Gather your wits and the game of ESPIONAGE!"

CONTENTS:
* 64-page rulebook
* 16-page adventure, "Merchants of Terror"

1983 ... Hero Games 7B

Check Wayne's Books Inventory

Amazon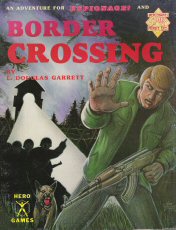 Border Crossing
Also written for Mercenaries, Spies, and Private Eyes.

"Border Crossing is a daring mission across the Iron Curtain when conventional methods have failed to gain vital knowledge. This adventure postulates the operation of a Covert Action Team in modern East Germany. Missions like this are the last resort of the intelligence community when remote means fail and there is no agent-in-place, or (in this case), the agent-in-place has been neutralized by enemy action. Time is critical; there is no time to cultivate a new agent, so the last resort becomes the only hope."

1983 ... L. Douglas Garrett ... 32 pages ... Hero 10

Check Wayne's Books Inventory

Amazon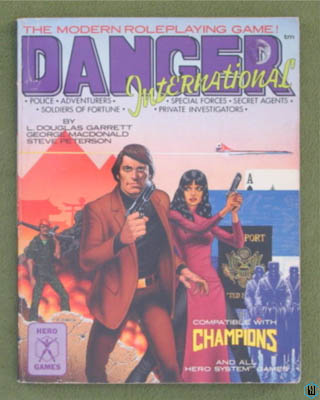 Danger International
• POLICE • ADVENTURERS • SPECIAL FORCES • SECRET AGENTS • SOLDIERS OF FORTUNE • PRIVATE INVESTIGATORS

"Launch into action with fast cars, vital secrets and high-tech hardware — take center stage as the hero in a story you help create! DANGER INTERNATIONAL is packed with challenging adventures (including a solo for first-time players), valuable source material and special game mechanics to simulate any modern adventure setting. All you need to add is your imagination!"

BOOK: 1985 ... 176 pages ... HERO 17 ... ISBN 0917481542

BOX SET: 1985 ... HERO 17B ... ISBN (same)
CONTENTS: Rulebook; mini-poster; double-sided play map; 6 dice.

Check Wayne's Books Inventory

Amazon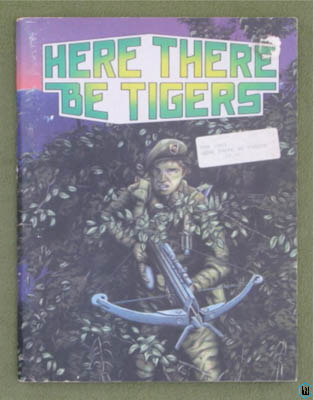 Here There Be Tigers
"THE GIANTS RETURN...
LIVE AMERICAN POWS ARE IDENTIFIED AND LOCATED AND A GROUP OF FORMER SERVICEMEN DECIDE TO RISK THEIR LIVES TO RESCUE THEM.
TRAINING IN SECRET, THEY HAVE ONLY ONE CHANCE TO DO THE IMPOSSIBLE - PENETRATE 200 MILES INTO HOSTILE TERRITORY, RESCUE 6 POWS, AND GET BACK OUT. ALL, WITHOUT ANY HELP FROM THE GOVERNMENT.

CAN YOU DO IT?

HERE THERE BE TIGERS IS AN ACTION PACKED ADVENTURE FOR ESPIONAGE/DANGER INTERNATIONAL WHICH INCLUDES NEW PACKAGE DEALS FOR THE ELITE MILITARY SERVICE GROUPS, A TRAINING CAMP IN WHICH CHARACTERS ACTUALLY TRAIN FOR MISSIONS VIA WEAPON RANGES AND CONFIDENCE COURSES, AND THE NEW LEVEL AGENT -- THE 100 POINT AGENT!
THIS IS A MODULE/SUPPLEMENT FOR DANGER INTERNATIONAL/ESPIONAGE. THE DANGER INTERNATIONAL/ESPIONAGE RULEBOOK IS NEEDED TO PLAY."

1986 ... 78 pages ... Firebird 1003 ... Written by Kevin Dockery & Robert Schroeder.

Check Wayne's Books Inventory

Amazon






| Top Secret SI |

---
| 2300 AD | 7th Sea | AD&D | Aftermath! | Albedo | Aliens | Arduin | Alternity | Amazing Engine | Amber Diceless | Ars Magica | Atlantis | Babylon 5 | Battletech | Boardgames / Wargames - Other | Boot Hill | Buck Rogers | Bushido | Call of Cthulhu | Castle Falkenstein | Chill | Chivalry & Sorcery | Conan | Cyberpunk | Cyborg Commando | Dark Conspiracy | DC Heroes | Deadlands | Doctor Who | DragonQuest | Dream Park | Dune | Dungeons & Dragons | Dying Earth | Earthdawn | Elfquest | Elric / Stormbringer | Everway | The Fantasy Trip | Foreign Language Roleplaying Games | Game of Thrones | Gamma World | GangBusters | Gear Krieg | Ghostbusters | GURPS | Harn | High Fantasy | Indiana Jones | James Bond | Jorune | Judge Dredd | Justifiers | Living Steel | Lords of Creation | Man, Myth & Magic | Marvel Super Heroes | Middle Earth Role Playing | Midkemia | Military Roleplaying Stockpile | Millennium's End | Miscellanea | Morrow Project | Mythus - Dangerous Journeys | Nightlife | Pendragon | Phoenix Command | Powers & Perils | Red Sonja | Renegade Legion | Riddle of Steel | Ringworld | Robotech | Rolemaster | Runequest | Shadowrun | Sovereign Stone | Space 1889 | Space Master | Space Opera - Other Suns | Star Ace | Star Frontiers | Star Trek | Star Wars | Super Hero RPGs | Talislanta | Talisman | Tekumel | Terminator 2 | Thieves' World | Timemaster | Top Secret | Traveller | Tribe 8 | Tunnels & Trolls | Twilight: 2000 | Villains & Vigilantes | Warhammer | Whispering Vault | Willow | Witchcraft | Ysgarth | CAMPAIGN BUILDING | RPG MAGAZINES | Avalanche Press | Avalon Hill | Bard | Chaosium | Columbia Games | Dream Pod 9 | Fantasy Games Unlimited (FGU) | FASA | Flying Buffalo | Game Designers Workshop (GDW) | Gamelords | Gamescience | Games Workshop | Judges Guild | Leading Edge Games | Mayfair Games | Metagaming | Pacesetter | Palladium | SPI | Steve Jackson Games | Tri Tac | TSR | Victory Games | West End Games | White Wolf | Wizards of the Coast | Yaquinto Publications |
---
| Return Home | What's New | Contact WaynesBooks.com |