Babylon 5 - The Incredible Sci-Fi Series
Babylon 5 Hub
d20 Babylon 5 ~ Babylon 5 Wars ~ Babylon 5 Component Game System ~ The Babylon Project
B5 Merch: Series Accessories ~ Micro Machines





Print Media | Prequels | Season 1 | Season 2 | Season 3 | Season 4 | Season 5

When Babylon 5 aired on TV, it broke all the Rules:

"Sci-Fi has no viewership base. There's only room for one Sci-Fi series: Star Trek."


"You can't have good special effects on a budget that's a small fraction of "Star Trek" funding."


"Viewers don't have the patience for episodes linked into a continuous storyline."


"Declaring a 5-year story arc is suicide. The show would have no future. It's better to run it until people quit watching the show."


"You must have cute kids and robots to appeal to younger viewers."


"Don't 'mess around' with the characters, or have complicated storylines. You'll alienate the casual viewer."
It was time for the paradigm to be redefined...





Babylon 5 plays like a sci-fi novel: Episodes are linked sequentially, over a span of 5 years. Though there are stand-alone episodes, most have a definite place in the overall story.

The show is filmed for adults. Some themes of sex, violence, and horror could be disturbing for children. Also, Babylon 5 is not intended for the casual viewer. Watching the occasional episode would be like reading chapters 3, 9, and 13 of a sci-fi novel; it would make little sense!

Below, I have links to the excellent Lurker's Guide to Babylon 5.

Introduction to Babylon 5 | Setting | The Station






Babylon 5 Accessories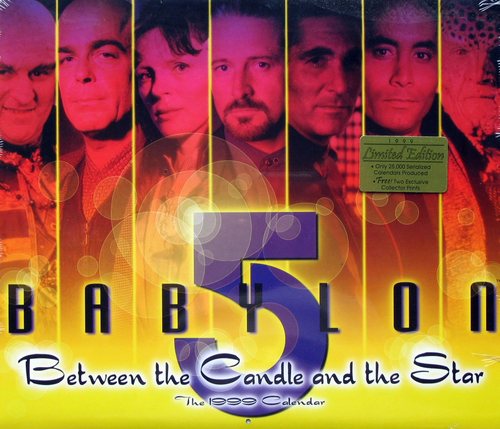 Between the Candle and the Star: The 1999 Babylon 5 Calendar
Limited Edition: Only 25,000 Serialized Calendars Produced. Two Exclusive Collector Prints inside.

A 1999 calendar can be reused in 2021 and 2027. -W

1999 ... Antioch Calendars ... ISBN 0782447872

Check Wayne's Books Inventory

Buy at Amazon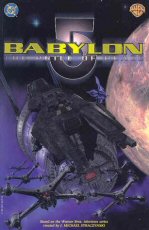 Babylon 5: The Price of Peace (DC Comics Graphic Novel)
"In this collection are some of the untold tales of the BABYLON 5 saga. Learn of how Jeffrey Sinclair - BABYLON 5's first commander - became Earth's ambassador to the planet Minbar in a stirring story co-written by series creator J. Michael Straczynski. Also, experience first-hand the public face used by the enigmatic Psi Corps."

1998 ... 126 pages ... ISBN 156389467X










See also: Babylon 5 paperback fiction series




Micro Machines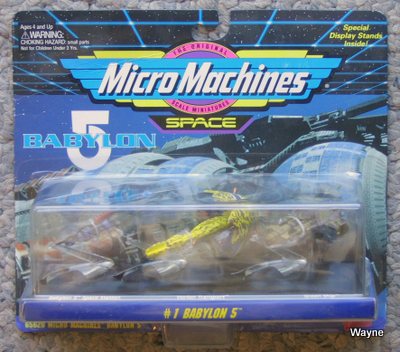 Babylon 5 Micro Machines Set 1
SET INCUDES: Babylon 5 Space Station • Vorlon Transport • Green Ship

1994 ... Galoob 65620 ... UPC 047246656219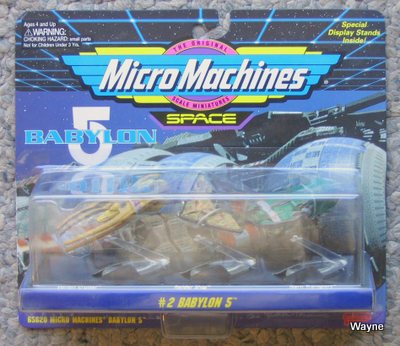 Babylon 5 Micro Machines Set 2
SET INCUDES: Vorlon Cruiser • Raider Ship • Narn Transport




Warner Bros.

holds copyright © and trademark TM 1992-1998 to "Babylon 5," the Babylon 5 logo, and all publicity photos and images from the series.


| B5 Prequels | B5 Season 1 | B5 Season 2 | B5 Season 3 |

---
| d20 Babylon 5 | Babylon 5 Wars | Babylon 5 Episodes |
---
| 2300 AD | 7th Sea | AD&D | Aftermath! | Albedo | Aliens | Arduin | Alternity | Amazing Engine | Amber Diceless | Ars Magica | Atlantis | Babylon 5 | Battletech | Boardgames / Wargames - Other | Boot Hill | Buck Rogers | Bushido | Call of Cthulhu | Castle Falkenstein | Chill | Chivalry & Sorcery | Conan | Cyberpunk | Cyborg Commando | Dark Conspiracy | DC Heroes | Deadlands | Doctor Who | DragonQuest | Dream Park | Dune | Dungeons & Dragons | Dying Earth | Earthdawn | Elfquest | Elric / Stormbringer | Everway | The Fantasy Trip | Foreign Language Roleplaying Games | Game of Thrones | Gamma World | GangBusters | Gear Krieg | Ghostbusters | GURPS | Harn | High Fantasy | Indiana Jones | James Bond | Jorune | Judge Dredd | Justifiers | Living Steel | Lords of Creation | Man, Myth & Magic | Marvel Super Heroes | Middle Earth Role Playing | Midkemia | Military Roleplaying Stockpile | Millennium's End | Miscellanea | Morrow Project | Mythus - Dangerous Journeys | Nightlife | Pendragon | Phoenix Command | Powers & Perils | Red Sonja | Renegade Legion | Riddle of Steel | Ringworld | Robotech | Rolemaster | Runequest | Shadowrun | Shatterzone | Sovereign Stone | Space 1889 | Space Master | Space Opera - Other Suns | Star Ace | Star Frontiers | Star Trek | Star Wars | Super Hero RPGs | Talislanta | Talisman | Tekumel | Terminator 2 | Thieves' World | Timemaster | Top Secret | Traveller | Tribe 8 | Tunnels & Trolls | Twilight: 2000 | Villains & Vigilantes | Warhammer | Whispering Vault | Willow | Witchcraft | Ysgarth | CAMPAIGN BUILDING | RPG MAGAZINES | Avalanche Press | Avalon Hill | Bard | Chaosium | Columbia Games | Dream Pod 9 | Fantasy Games Unlimited (FGU) | FASA | Flying Buffalo | Game Designers Workshop (GDW) | Gamelords | Gamescience | Games Workshop | Judges Guild | Leading Edge Games | Mayfair Games | Metagaming | Pacesetter | Palladium | SPI | Steve Jackson Games | Tri Tac | TSR | Victory Games | West End Games | White Wolf | Wizards of the Coast | Yaquinto Publications |
---
| Return Home | What's New | Contact WaynesBooks.com |