Dungeons & Dragons (D&D) Accessories - Other
D&D Central
D&D Accessories (AC series) | D&D Modules (B series) | D&D Modules (C-D) | D&D Modules (I-O) | D&D Modules (X series) | D&D Modules (other) | Creature Crucible | Gazetteer | Hollow World | Mystara | Non-TSR D&D
BROWSE MY DUNGEONS & DRAGONS ITEMS CURRENTLY IN STOCK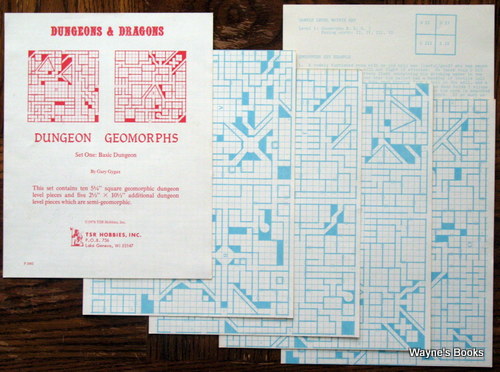 Dungeon Geomorphs, Set One: Basic Dungeon


An accessory set from the classic era of Dungeons & Dragons. 6 cardstock sheets, of which 5 are dungeon sections to be cut into two squares and one long rectangle, each keyed so they match up against the edges of other sections. Last cardstock sheet has printed instructions on both sides.

-Wayne

1976 ... Gary Gygax ... TSR F 1002 or 9004

Check Wayne's Books Inventory

Buy at Amazon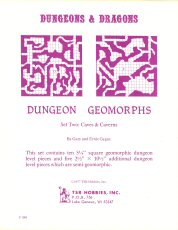 Dungeon Geomorphs, Set Two: Caves & Caverns
1977 ... Gary Gygax & Ernie Gygax ... TSR F 1003 or 9005
Check Wayne's Books Inventory

Buy at Amazon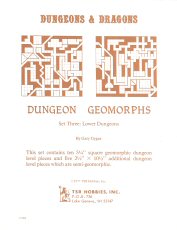 Dungeon Geomorphs, Set Three: Lower Dungeons
1977 ... Gary Gygax ... TSR F 1004 or 9006
Check Wayne's Books Inventory

Buy at Amazon

Outdoor Geomorphs, Set One: Walled City
An accessory set from the classic era of Dungeons & Dragons. 11 cardstock sheets which are city sections to be cut into two squares and one long rectangle, each keyed so they match up against the edges of other sections. Set also contains 4-page instruction pamphlet which has instructions and sample encounters.

1977 ... Gary Gygax ... TSR F 1005 or 9008

Check Wayne's Books Inventory

Buy at Amazon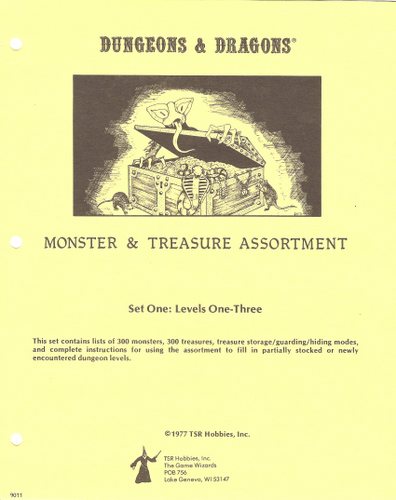 Monster & Treasure Assortment: Set 1, Levels One-Three


"This MONSTER AND TREASURE ASSORTMENT (Levels One to Three) is one of a set and is designed as a playing aid for DUNGEONS & DRAGONS. By using the assortment lists, game judges can generate any number of appropriate monsters or treasure simply by dice rolling — thus saving time in play and preparation."

1977 ... TSR 9011

Check Wayne's Books Inventory

Buy at Amazon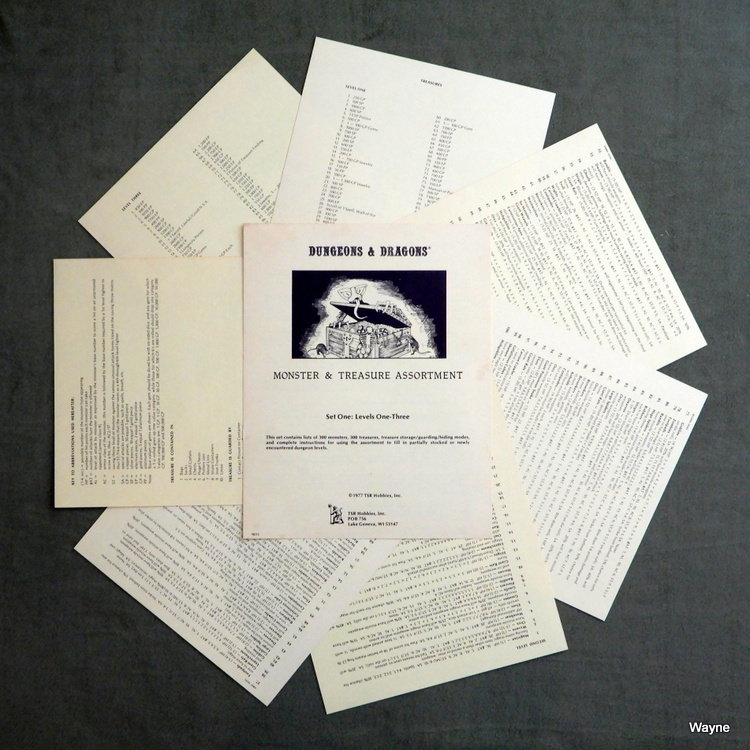 Monster & Treasure Assortment: Set 1, Levels One-Three. 2nd printing.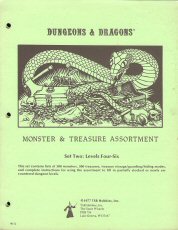 Monster & Treasure Assortment: Set 2, Levels Four-Six
"This set contains lists of 300 monsters, 300 treasures, treasure storage/guarding/hiding modes, and complete instructions for using the assortment to fill in partially stocked or newly encountered dungeon levels."

1977 ... 8 cardstock sheets ... TSR 9012

Check Wayne's Books Inventory

Buy at Amazon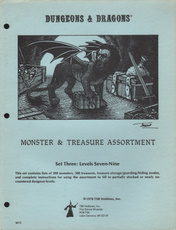 Monster & Treasure Assortment: Set 3, Levels Seven-Nine
1978 ... 8 cardstock sheets ... TSR 9015
Check Wayne's Books Inventory

Buy at Amazon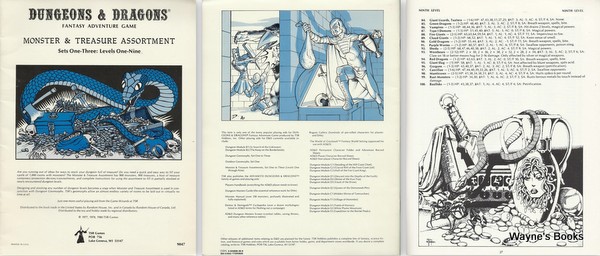 Monster & Treasure Assortment, Set 1-3


Lots of great old school art: David A. Trampier, David C. Sutherland III, Tom Wham, Bill Willingham, Jeff Dee. -W

"Are you running out of ideas for ways to stock your dungeon full of treasure? Do you need a quick and easy way to fill your castle of 7,000 rooms with monsters? The Monster & Treasure Assortment has 900 monsters, 900 treasures, a host of treasure containers/protection devices/concealments, and complete instructions for using the assortment to fill in partially stocked or newly encountered dungeon levels.

Designing and stocking any number of dungeon levels becomes a snap when Monster and Treasure Assortment is used in conjunction with Dungeon Geomorphs. TSR's geomorphs allow an almost endless variety of rooms to be laid out in virtually no time at all."

1980 ... 33 pages ... TSR 9047 ... ISBN 0935696369

Check Wayne's Books Inventory

Buy at Amazon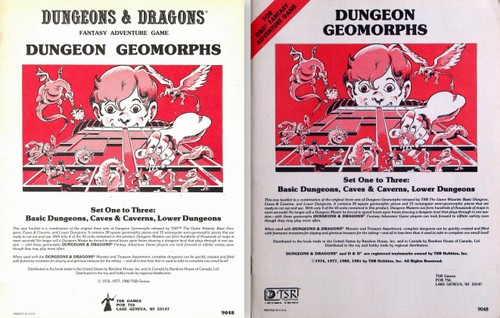 Dungeons Geomorphs Set One to Three: Basic Dungeons, Caves & Caverns, Lower Dungeons
"This new booklet is a combination of three sets of Dungeon Geomrphs released by TSR The Game Wizards: Basic Dungeon, Caves & Caverns, and Lower Dungeons. It contains 30 square geomorphic pieces and 15 rectangular semi-geomorphic pieces that are ready to cut out and use. With only 4 of the 45 units contained within this product, Dungeon Masters can form hundreds of thousands of maps in mere seconds! No longer will a Dungeon Master be forced to spend hours upon hours drawing a dungeon level that plays through in one session - with these geomorphs Dungeons & Dragons Fantasy Adventure Game players can look forward to infinite variety even though they may play more often.
When used with Dungeons & Dragons Monster and Treasure Assortment, complete dungeons can be quickly created and filled with fearsome monsters for slaying and glorious treasure for the taking - and all in less time than it used to take to complete one small level!"

1980, 1981 ... 28 pages (15 geomorph sheets, 3 sections per sheet) ... TSR 9048 ... ISBN 039451646X / 0935696377

Check Wayne's Books Inventory

1st printing at Amazon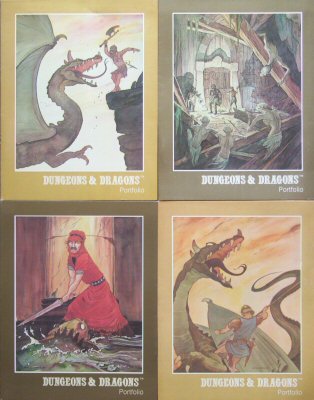 Dungeons & Dragons Portfolio Set
Four (4) licensed classic Dungeons & Dragons two-pocket portfolio folders from 1981. Fairly common school supplies in their time, the vast majority were destroyed in the course of normal use and discarded, so they are hard-to-find today. Measuring 9 1/2" x 12 1/8", each of the 4 has a different fantasy scene painted by Alex Nuckols, repeated front and back.

1981 ... St. Regis 0854

More photos over at our Game Gallery

Check Wayne's Books Inventory

Buy at Amazon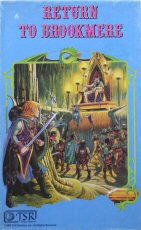 Return to Brookmere (Dungeons and Dragons Jigsaw Puzzle)
Some better photos of assembled D&D puzzles at our game blog.

Jigsaw Puzzle based on the cover art of the Dungeons & Dragons Endless Quest book, "Return to Brookmere." Art by the famous Larry Elmore.

1982 ... TSR 1605-2 ... UPC 078581016055

Check Wayne's Books Inventory

Buy at Amazon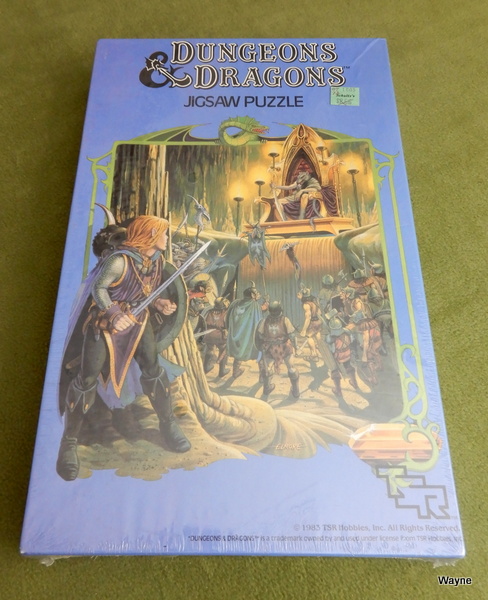 Here's the 1983 version of the Brookmere puzzle. -W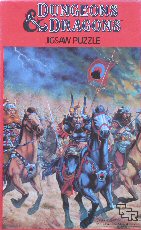 Dungeons & Dragons Jigsaw Puzzle
Another jigsaw puzzle featuring art by Larry Elmore: A charge of armed horsemen. 200 pieces.

1983 ... TSR 1605-4

Check Wayne's Books Inventory

Buy at Amazon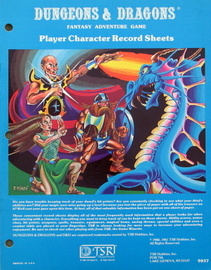 Player Character Record Sheets
I've profiled a rare 1979 pad of D&D character sheets over at our Games Gallery.



1980 ... Jim Roslof (cover) ... 16 character sheets ... TSR 9037 ... ISBN 0935696660

Check Wayne's Books Inventory

Buy at Amazon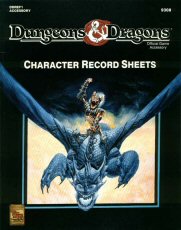 Character Record Sheets (DDREF1)
"Here Comes Trouble!

Three trolls—hot, hungry, and bothered—are breathing down your neck in a dead-end catacomb. Is this the end of the line for your noble hero?

Of course not! With an official D&D® Game Character Record Sheet, you know exactly where to look for that wand of fire balls. All of your character's essential information is ready at a glance, right where you need it, when you need it.

Don't wait for disaster to strike! Let these 24 colorful character record sheets make you the most organized player in your game."

1991 ... 48 pages ... TSR 9308 ... ISBN 1560762837

Check Wayne's Books Inventory

Buy at Amazon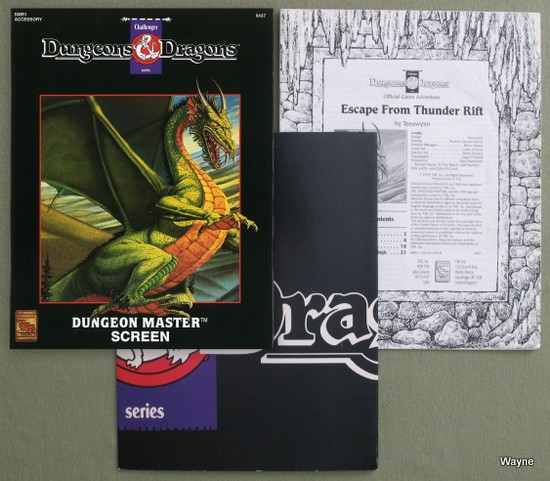 Dungeon Master Screen (DMR1)


More photos of a nice set over at my Games Gallery.

"This new DUNGEON MASTER Screen puts the most important combat and encounter tables at your fingertips! Don't slow down the action by searching for numbers; keep them in front of you all the time with this handy, easy to read screen and reference guide. An indispensable game aid to Dungeon Masters for all levels of play!

Also included, the Escape from Thunder Rift adventure leads heroes into a dark dungeon where they may discover a gate between the valley of Thunder Rift and the World of Mystara. Escape from Thunder Rift is designed to take both players and their Dungeon Master from the introductory D&D game rules to the more challenging D&D Rules Cyclopedia. Fun for experienced and novice players alike, this adventure takes four to six heroes from 5th to higher levels of play.

Introduces players to the village of Bywater from the best-selling D&D Novel, The Tainted Sword
Can be used without the Thunder Rift accessory
Introduces wilderness and town adventuring to novice players
For use with either the DUNGEONS & DRAGONS Game Box or the D&D Rules Cyclopedia."

1993 ... Teeuwynn Woodruff (adventure) & Larry Elmore (cover art) ... TSR 9437 ... ISBN 1560765658

Check Wayne's Books Inventory

Buy at Amazon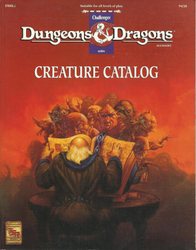 Creature Catalog (DMR2)
"Lurking behind these covers are over 150 of the most ferocious, wondrous, and challenging creatures of the D&D game. This new Creature Catalog revises and expands on the older product of a similar name, which it replaces. The perfect companion to the D&D Rules Cyclopedia, the Creature Catalog updates old monster descriptions, provides information compatible with the new Rules Cyclopedia, developes monster background information, and includes new creatures and old fiends from the very best D&D adventure modules. With the Creature Catalog, a DUNGEON MASTER can find the right monster to challenge any adventuring party, from 1st level on up.

Covers and illustrates over 150 creatures not included in the Rules Cyclopedia!
Contains and updated D&D creature index.
Features new wildernes encounter tables."

1993 ... John Nephew & Julia Martin ... 128 pages ... TSR 9438 ... ISBN 1560765933

Check Wayne's Books Inventory

Buy at Amazon

Buy PDF and/or reprint at DriveThruRPG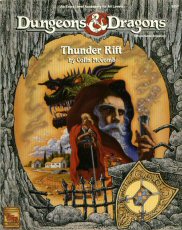 Thunder Rift
"CALLING ALL BEGINNER DUNGEON MASTERS AND PLAYERS: IT'S TIME TO LEARN WHAT LIES BEYOND THE DUNGEON! THE GREAT CANYON OF THUNDER RIFT IS FILLED WITH ADVENTURE

Now that you've had a taste of treasure hunting, are you ready to discover the road to and from adventure? Enter Thunder Rift and you'll find the excitement that lies outside the dungeon. From the Plunging Cataract Falls to the Keep of the Black Knight, the Rift offers a miniature world filled with friends and foes alike.
Thunder Rift offers the novice Dungeon Master a rich environment in which to begin a campaign. He or she can run the companion modules designed for use with this accessory or create entirely original scenarios that only require a place to be played out. There are lots of adventure ideas built right into the text, and lots of space for inventive DMs to "do their own thing." Player characters will find the Rift to be an excellent home turf, and they can get to know the valley while they are getting to know their characters and the game.

Recommended for beginner DMs and players - no level restrictions
For use with both the DUNGEONS & DRAGONS Game Box and the D&D Rules Cyclopedia
Comes with a large, colorful map sheet
Acts as a setting for numerous TSR adventure modules, but remains completely self-contained, a perfect setting for any adventure
Thunder Rift can be placed into any world in which the DM sets the campaign."

1992 ... 32 pages + map ... TSR 9357 ... ISBN 1560763817

Check Wayne's Books Inventory

Buy at Amazon

Buy PDF at DriveThruRPG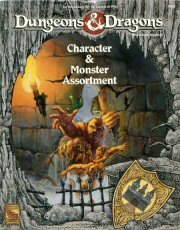 Character & Monster Assortment
"Behold the Dungeon Master's best game supplement!
At last! A whole collection of 3D heroes and their monstrous foes is made available. From now on, easy to assemble hordes of colorful and mysterious creatures will hide behind the Dungeon Master game screen, waiting to surprise unwary players. The Character & Monster supplement brings back the best game pieces offered in your favorite D&D modules, along with a brand new series of standups.
Your dungeons will never be the same without them!
Over 120 3D game pieces
Includes 15 double-wide game pieces for mounted knights, and large monsters like dragons, hydras, manticores, and more
12 male and female heroes and NPCs
14 brand new game pieces never yet published
All this on seven pre-cut and scored color sheets."

1992 ... TSR 9363 ... ISBN 1560763833

Check Wayne's Books Inventory

Buy at Amazon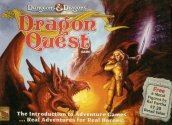 Dragon Quest
"The world of the DRAGON QUEST Game is full of evil dragons, mysterious dungeons, horrible monsters, fatal traps, and vvaluable treasure. You and up to five of your friends can role-play fierce warriors, magical wizards, even elves and dwarves. Step-by-step the danger and suspense increase as your party experience one adventure after another, especially when you make up new adventures as you go!"

The DRAGON QUEST Game Contains:

* 180 full-color game cards with magic, monsters, traps and treasure
* Two game books: a 32-page rulebook and a 24-page adventure book
* A complete set of seven adventure dice
* Six plastic heroic figures
* Brilliantly illustrated, folding game board
* Dozens of full-color standup counters for heroes, monsters, and doors

1992 ... TSR 1100 ... ISBN 1560765526

Check Wayne's Books Inventory

Buy at Amazon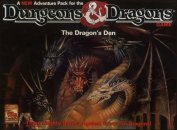 Dragons' Den Adventure Pack
"Inside this box you'll find three complete adventures, each featuring a different dragon. But before you and your friends can confront a fiendish black, green, or red dragon, you must fight off hordes of evil lizard men, troglodytes, bugbears, and more! Then it's up to you to escape from the dungeon alive!
In addition to the three adventures, there's also a stand-alone board game that uses all the game pieces and poster maps inside. You and your friends will enjoy hours of high excitement with the three adventures and the bonus game, too!

This box includes:

Three seperate adventure booklets.
Three full-color poster-size maps, one for each adventure.
Six dozen monster and character stand-up counters.
Sixty-six tiles for dressing up your dungeons.
A six-sided die and a ten-sided die.
One sheet of cards and 62 playing pieces for use with the stand-alone mini-game.
Please note: To play the 3 Dragon Adventures in this game, you must own the DUNGEONS & DRAGONS game. The bonus board game is playable immediately."

1992 ... TSR 1073 ... ISBN 1560763809

Check Wayne's Books Inventory

Buy at Amazon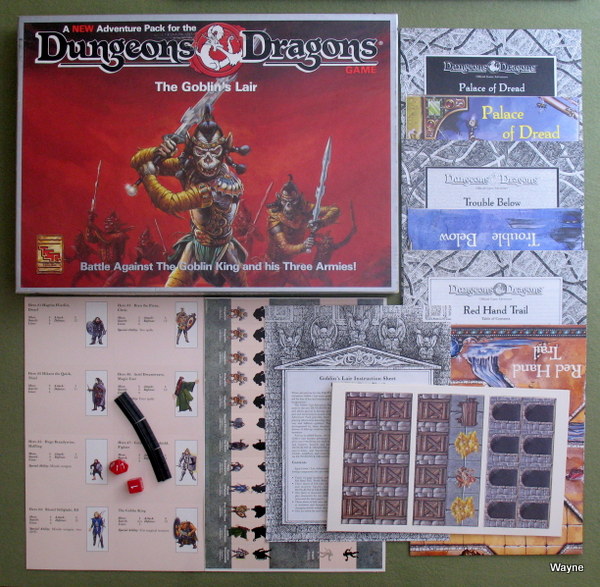 The Goblin's Lair


Contents: Three 16-page adventures, with corresponding color poster maps (Red Hand Trail, Trouble Below, Palace of Dread); Instruction sheet; One sheet of eight character cards; Three sheets of 72 fold-up creature counters; Three sheets of dungeon tiles; Twelve plastic stands; Two dice (1d6 and 1d10).

1992 ... TSR 1076 ... ISBN 1560763825

Check Wayne's Books Inventory

Buy at Amazon







The Haunted Tower
1992 ... TSR ?? ... ISBN 1560764104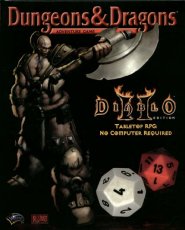 Diablo II [BOX SET]
In that span of time when Wizards of the Coast was between AD&D and D&D 3e, an interesting partnership formed.

Story over at our Games Gallery blog:
Dungeons & Dragons Meets Diablo (1999-2001)

-Wayne

"DIABLO BREAKS OUT OF YOUR COMPUTER
WITH THE WORLD'S GREATEST ADVENTURE GAME!

Enter a world where evil has corrupted the land and shackled humanity into unholy slavery. Enter a world where you contend with the forces of ultimate evil.

The DUNGEONS & DRAGONS game takes DIABLO II iinto a new dimension - a live dimension. You control the action. You control the dungeons that change with every adventure, holding deadly perils and great treasure! You take the role of Necromancer, Barbarian, Sorceress, Amazon, or Paladin to wage war with the unholy hordes of Evil. You become the Dungeon Master, bringing the adventure to life!

INCLUDES EVERYTHING YOU NEED TO PLAY"

The DIABLO II Adventure Game includes:

* Two Books: Rule book & Quest book
* a DM Screen
* Twelve Sheets of Dungeon-Buildiing Tiles
* Five Hero Folders (right out of the computer game)
* Six Dice.

1999 ... TSR 11548 ... ISBN 078691548X
Check Wayne's Books Inventory

Buy at Amazon

Wizards of the Coast owns (and holds trademark to) the D&D game in all forms.
---
| D&D Accessories (AC series) | D&D Accessories (other) | D&D Modules (B series) | D&D Modules (C-D) | D&D Modules (I-O) | D&D Modules (X series) | D&D Modules (other) | Creature Crucible | Gazetteer | Hollow World | Non-TSR D&D |
---
| 2300 AD | 7th Sea | AD&D | Aftermath! | Albedo | Aliens | Arduin | Alternity | Amazing Engine | Amber Diceless | Ars Magica | Atlantis | Babylon 5 | Battletech | Boardgames / Wargames - Other | Boot Hill | Buck Rogers | Bushido | Call of Cthulhu | Castle Falkenstein | Chill | Chivalry & Sorcery | Conan | Cyberpunk | Cyborg Commando | Dark Conspiracy | DC Heroes | Deadlands | Doctor Who | DragonQuest | Dream Park | Dune | Dungeons & Dragons | Dying Earth | Earthdawn | Elfquest | Elric / Stormbringer | Everway | The Fantasy Trip | Foreign Language Roleplaying Games | Game of Thrones | Gamma World | GangBusters | Gear Krieg | Ghostbusters | GURPS | Harn | High Fantasy | Indiana Jones | James Bond | Jorune | Judge Dredd | Justifiers | Living Steel | Lords of Creation | Man, Myth & Magic | Marvel Super Heroes | Middle Earth Role Playing | Midkemia | Military Roleplaying Stockpile | Millennium's End | Miscellanea | Morrow Project | Mythus - Dangerous Journeys | Nightlife | Pendragon | Phoenix Command | Powers & Perils | Red Sonja | Renegade Legion | Riddle of Steel | Ringworld | Robotech | Rolemaster | Runequest | Shadowrun | Shatterzone | Sovereign Stone | Space 1889 | Space Master | Space Opera - Other Suns | Star Ace | Star Frontiers | Star Trek | Star Wars | Super Hero RPGs | Talislanta | Talisman | Tekumel | Terminator 2 | Thieves' World | Timemaster | Top Secret | Traveller | Tribe 8 | Tunnels & Trolls | Twilight: 2000 | Villains & Vigilantes | Warhammer | Whispering Vault | Willow | Witchcraft | Ysgarth | CAMPAIGN BUILDING | RPG MAGAZINES | Avalanche Press | Avalon Hill | Bard | Chaosium | Columbia Games | Dream Pod 9 | Fantasy Games Unlimited (FGU) | FASA | Flying Buffalo | Game Designers Workshop (GDW) | Gamelords | Gamescience | Games Workshop | Judges Guild | Leading Edge Games | Mayfair Games | Metagaming | Pacesetter | Palladium | SPI | Steve Jackson Games | Tri Tac | TSR | Victory Games | West End Games | White Wolf | Wizards of the Coast | Yaquinto Publications |
---
| Return Home | What's New | Contact WaynesBooks.com |