Miscellanea - The "Other" Page
3 Gametime [Heritage Models] sets (1978)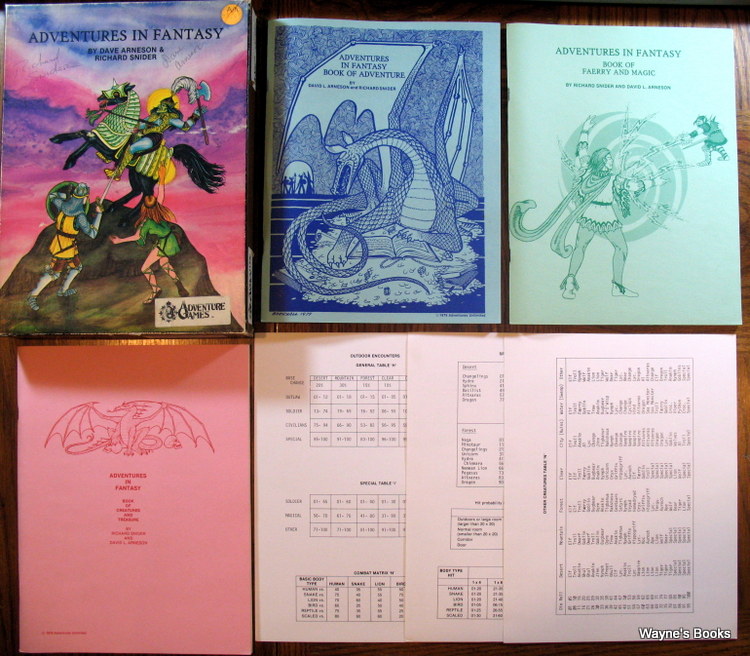 Adventures in Fantasy [BOX SET]


Classic roleplaying game by the co-creator of Dungeons & Dragons. Box set contains 3 booklets (Book of Adventure; Book of Faerry and Magic; Book of Creatures and Treasure) and 3 cardstock charts. Famous for its huge variety of Dragons.

Much more about AiF over at our Game Blog

Pictured is a set signed by Dave Arneson & Richard Snider.

-Wayne

Book of Adventure, Contents:
INTRODUCTION; TABLE OF CONTENTS; FORWARD; THE PLAYER CHARACTER; SOCIAL STATUS TABLE; STARTING AGE; DEATH; EDUCATION; COURSES OF INSTRUCTION; PRICE LIST; GENERAL SUPPLIES; ENCUMBRANCE TABLE; SETTING UP THE CAMPAIGN; DRAGON'S LAIR (SAMPLE); UNDERWORLD ENCOUNTERS; CHART OUTDOOR ENCOUNTERS; EVASION TABLE; BLEAKWOOD (SAMPLE); TOWER OF AL-HAZA; COMBAT MATRIX; TERRAIN EFFECTS ARMOR (OPTIONAL); HOW TO GAIN EXPERIENCE; NON-PLAYER CHARACTERS.

Book of Faerry and Magic, Contents:
INTRODUCTION; TABLE OF CONTENTS; BASIC MAGIC; LIST OF SPELLS; DESCRIPTION OF SPELLS; PERMANENT MAGIC; SORCEROUS COMBAT; RESTRICTIONS ON MAGICIANS; MAGICAL FATIGUE (OPTIONAL); FAERRY MAGIC; SONGS OF FAERRY; RUNES OF THE FAERRY; THE FAERRY RACES (ELVES; DWARVES; GOBLINS; THE FAERRY; CHANGELINGS; FAERRY CAVERN COMPLEX); ELEMENTALS.

Book of Creatures and Treasure, Contents:
INTRODUCTION; TABLE OF CONTENTS; CREATURE DESCRIPTION; THE DRAGON; THE JINN; CREATURE INFORMATION CHART TREASURE; GENERAL TREASURE CHART; GEMSTONE VALUES TABLE; MISCELLANEOUS TREASURE; MAGIC ITEMS (SWORDS; ARMORS; AMULETS; TALISMANS); MAGICAL ARTIFACTS TABLE; MISCELLANEOUS ARTIFACTS DESCRIPTION; SAMPLE CAMPAIGN ARTIFACT TABLE.

1979 ... Dave Arneson & Richard Snider ... Adventures Unlimited

Check Wayne's Books Inventory

Amazon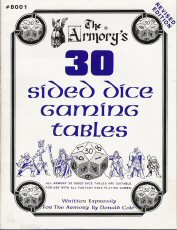 30 Sided Dice Gaming Tables
Sections and tables: Reading the 30-Sided Die; Reading the 300-Percenti1e Pair; Hit Result Table; Gemstones as Treasure; Semi-precious Gemstones; Semi-precious Gemstone Value Table; Precious Gemstones; Precious Gemstone Value Table; Jewelry Table; Jewelry Value Table; Human Height Table; Human Weight Table; Elf Height Table; Elf Weight Table; Dwarf Height Table; Dwarf Weight Table; Gnome Height Table; Gnome Weight Table; Hobbit Height Table; Hobbit Weight Table; Language Table; Mundane Experience Table; Fighter's Weapons Table; Slaves Table; Common Skins and Furs; Common Skins Value Table; Fancy Furs Table; Fancy Furs Value Table; Where Am I; Ancient Ship Table; Disease Severity Table; Poison Severity Table; Animal Trainer Table; Exotic Animal Trainer Table; Spell Effects Table; Magic Item Table.

1982 ... The Armory 8001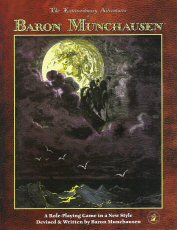 The Extraordinary Advetures of Baron Munchausen: A Role-Playing Game in a New Style
"Join the Baron as he journeys to the Moon and the Sun, rides cannon-balls, defeats the entire Turkish army with only a tame rabbit and a bottle of schnapps, meets gods, giants and heroes, and escapes from bandits on half a horse. The extraordinary stories of the legendary eighteenth-century nobleman come to life as players battle to outdo each other's fabulous feats and amazing accomplishments, stretching the bounds of truthfulness until they twang.
The Extraordinary Adventures of Baron Munchausen contains a full set of rules, background, more than two hundred adventures ready to be played, a revolutionary system of mechanics that does away with dice or cards and uses money and fine wine instead, two combat systems ('duelling' and 'duelling for cowards'), quick-start rules and a great many insults against the inhabitants of various nations, but principally the French. This game can be learned in under five minutes, requires no GM or preparation, and takes about an hour to play. You will require pencil, paper, imagination, a manservant, money, a selection of fine wines, noble blood, a sense of flamboyance, and at least one attractive member of the opposite sex (optional).
How is all this possible? If Baron Munchausen's involved, anything is possible."

1998 ... 24 pages ... HP 400 ... ISBN 1899749187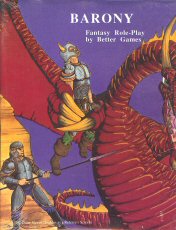 Barony Fantasy Role-Play
"Barony (Stock Number BG-FB / 1499) contains following three gaining pamphlets:
Conrad's Fantasy (Stock Number BG-FCF / 495) introduces concept of Free-Style Role-Play™ - building block system of game mechanics that allow Referee to create his own role-play game. Game will romanticize the players' prowess and allow them to rise from obscurity to lead the forces that control the "paper-worlds". Characters are easy to generate, but capable of complex interaction. Features Better Games' Quick and Dirty System™ for generating detailed combat against dragons.
Designing Fantasy Scenarios (Stock Number BG-FDS / 495) offers mission generation for adventures above surface and below in the underworlds. Endless missions can be quickly generated by flipping card-stock deck provided in the game. With Better Games' systems, Referee is never without an adventure. Referee can also detail sub-missions or motives specific players have for joining the group (when their characters seem out of place).
Encounters Fantasy Scenarios (Stock Number BG-FE / 595) offers two detailed settings for Travel Along Baronial Highways or Crossing the Dark Recesses of Underworlds, Not just one crypt, travel in Underworld becomes a world in scale as players cross series upon series of lairs and underground domains where creatures and cults thrive. Encounters flow by flipping card-stock deck provided in the game, so that the action never ends from one mission to the next. Referee is not left with the full burden of creating an adventure, both players and Referee can evolve the campaign through their gaming actions.
Dare we say it - Free-Style Role-Play™ by Better Games can take place with or without a Referee!"

1993 ... Joseph Hillmer & George Rahm & Todd Pickens (art) ... Better Games BG-FB 1499 ... ISBN 1879182076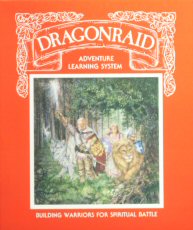 Dragonraid Adventure Learning System [BOX SET]
CONTENTS:
* New Player Briefing
* LightRaider Handbook
* Adventure Master Manual
* RuleBook
* LightRaider Test Adventure GuideBook
* Rescue of the Sacred Scrolls Adventure GuideBook
* Character Sheets and LightRaider Worksheets
* Cassette Tape
* Battle Grids, LightRaider Figures, Dark Creature Counters, StarLot, Shadow Stone

"DragonRaid is an exciting experience in adventure Simulation. More than just a game, it offers hours of enjoyment while teaching participants to resist sin, counter deceptive arguments, memorize Scripture, and build moral and spiritual character.
The DragonRaid System encompasses many different adventures. On the mythical world of EdenAgain, players meet chal-lenges that parallel real life. The imagined dangers compel them to grapple with conflicting values, discover how faith in Christ can shape behavior, and reflect on what is really worth living and dying for.
DragonRaid differs significantly from many popular role-playing games, though it employs some of the same techniques. Created by NavPress author and Christian counselor Dick Wulf, its whole purpose is to give players deeper insight into spiritual truth and help them mature in their day-to-day relationships with non-Christians, with fellow believers, and with God Himself.
Join the fun and reap the rewards of this innovative discipleship tool! DragonRaid is ideally suited for men and women in their teen years, but will appeal to all ages 12 and up."

1984 ... Adventure Learning Systems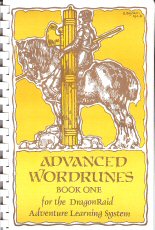 Advanced Wordrunes, Book One (Dragonraid)
1987 ... 85 pages (plastic comb) ... Peter Philbrick & Dick Wulf ... Adventure Learning Systems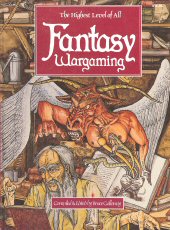 Fantasy Wargaming
"Deeper dungeons...
More dangerous dungeons...

Fantasy combined with never-before-explored logic for expert players. Here in Fantasy Wargaming is an invaluable guide with complete playing rules and sections on:
• Monsters and Magical Beings
• Cultures, Myth and Religion
• Character Generation
• Role Playing
• Spells
• Warrior Tables
• Motivations, and Index, and more."

1982 ... Bruce Galloway ... 208 pages (hardcover) ... ISBN 0812828623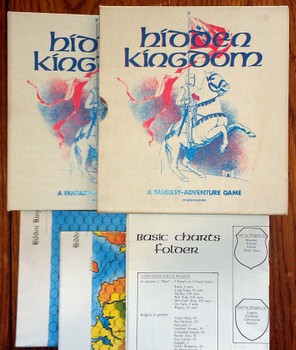 Hidden Kingdom: Classic Arthurian Roleplaying
"... The game-world of HIDDEN KINGDOM is the world of King Arthur, ruler of Camelot and leader of the famous "Knights of the Round Table."

Unlike most fantasy-role-playing games, HIDDEN KINGDOM includes a list of over three hundred possible Character roles. It is not necessary for the player to have anything in common with the Character he or she plays. In fact, much of the excitement is generated by attempting to play Characters which are totally different from your own personality, beliefs and life situation etc.
Since the setting for HIDDEN KINGDOM is the world of King Arthur, all of the Characters have a basis in Classical Medieval Romance. As a player, you will be given some information about your Character. This information will serve as the broad limits for this Character. Your job will be to play the Character within these known limits, using your imagination to achieve an agreed-upon goal (or quest), and to provide missing aspects of your Character's personality. Your ultimate objectives in the game are dependent on the Character's "Alignment" ...

In HIDDEN KINGDOM, there are two general alignments: either Pagan (the world-view of the old order), or Christian (the new order). In addition to the two general alignments, each Character is further defined by a sub-alignment. If the Character is a Christian Character, he or she will be either a Renunciate or a Chivalrous Christian. If the Character is a Pagan Character, he or she will either be a Chivalrous or a Powerlord Pagan."

Set contains 337-page 3-ring binder; 2 color poster maps; Poster of relevant charts & tables; Character Sheets; errata sheet.

1983 ... New Rules, Inc.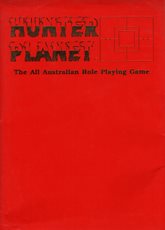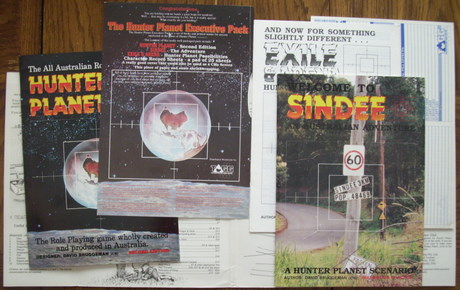 Hunter Planet Executive Pack : The All Australian Role Playing Game


The Hunter Planet Executive Pack contains the following items.
35-page Hunter Planet rulebook (2nd edition)
34-page Welcome to Sindee adventure scenario
16-page Exile & Arena book
Pad of 25 character record sheets

1987 ... David Bruggeman ... TAGG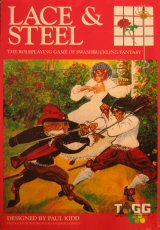 Lace & Steel: The Roleplaying Game of Swashbuckling Fantasy [BOX SET]
CONTENTS:
• Book One: Characters
• Book Two: Naked Steel
• Book Three: Mittelmarch
• Book Four: Adventures
• 55 Sorcery Cards
• 57 Combat Cards

"Welcome to a world of grace and beauty, of breathtaking romance and dashing adventure. A fantasy world of swashbuckling, of dire magics and dazzling balls, where the royal court provides as much challenge to a player as the battlefields or the faerie forests.
LACE & STEEL takes role playing games out of their rut of dour violence and aggression to offer a whole universe of other possibilities. Characters establish personalities, friendships and hatreds, fears and loves to make interpersonal relations a vital part of play. Rules for romance, repartee conflict, flirtation and fashion give players the unique opportunity to venture into courtly role play - a playing style where the ladies can truly come into their own. For the military minded, there are rules for massed battles and sea fights, deadly magic and duels."

1989(?) ... Paul Kidd ... The Australian Games Group (TAGG) ... ISBN 0958909857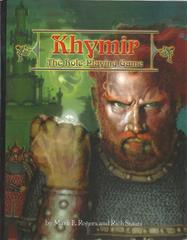 Khymir: The Role Playing Game
"Based on the Zorachus books by Mark E. Rogers, and designed by Doctor Games himself, Richard Staats, Khymir is an adult role-playing game, wild, wicked, and sexy, that truly pushes the envelope. Fight for your life in a sorcery-drenched alternate world cursed by the arch-devil Tchernobog; face off against sorcerers, barbarians, poison-cult prostitutes, and sendings from Hell. No holds are barred and damnation looks you straight in the face. The war between Good and Evil has never been this mean.

FEATURES:
* An innovative gaming engine that encourages heroic action and lets the players
determine how much risk they take to overcome each challenge
* An extensive game mastering section suitable for use with any system based on
the Origins "Classic GMing Seminar Series"
* A grimoire complete with gaming effects
* A bestiary of monsters and demons
* Sections on military formations and tactics
* Detailed descriptions of geography
* Maps
* Dramatis Personae: mages, warriors, seductresses, and murdering madmen from the Zorachus series"

2005 ... Mark E. Rogers and Rich Staats ... 132 pages ... Dies Irae Press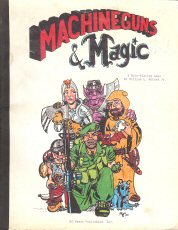 Machineguns & Magic: A Role-Playing Game
"WHAT IS THIS STRANGE GAME?
Did you ever wonder if modern man and his weaponry could stand up to mystic spells, horrid dragons, disgusting ogres, or evil knights in full armor?
Machineguns and Magic is a Role-Playing game, that allows the player to take the persona of a soldier from the Vietnam era, or modern day. In the game you pit him and his M-16 against unhuman monsters and insane sorcerers with dark magics. Best of all, you and your friends don't have to set foot out of your own living room to find high adventure! With this book, it all comes to you through your own imagination!
Included in Machineguns and Magic are rules for the use of weapons from the M-16 Assault-Rifle to the Broadsword, armor and shields, and Hand-to-hand Combat, There are also rules that cover Personality Traits, Wounding and Healing, Skill learning, making up gnarly monsters, awesome wizards, wondrous spells, and MORE!"

1991 ... William L. McCord ... 88 pages ... MG Games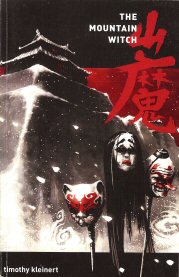 The Mountain Witch
"A group of ronin are hired for a simple yet terrifying task - to assault and kill the dreaded 0-Yanma, the Mountain Witch of Mount Fuji. But regretful pasts and dark fate conspire against the mission, testing both the courage and loyalty of the samurai. When every heart holds betrayal, who can you trust?

A self-contained role-playing adventure that combines elements of Japanese mythology, horror, and film noir in a tale of trust, betrayal, and confronting one's fate."

2005 ... Timothy Kleinert ... 148 pages + envelope of 6 fate cards ... Timfire Publishing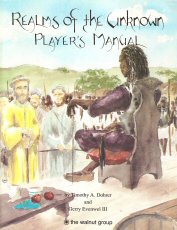 Realms of the Unknown: Player's Manual
"You hold in your hands a gateway into a new realm. This manual includes important information for leading a population through the trials and tribulations of Realms of the Unknown. You will need strength, creativity, intelligence, organization, and even some luck to take your people from a society based upon sticks and stones and transform them into a thriving population advanced in technology and lifestyle.
The guidelines inside are straightforward and easy to learn. They will establish your leader, begin your journey, and even give you tips on more advanced ideas. This manual is a must for players interested in joining a game that goes beyond typical board games and role-playing games."

1991 ... Timothy A. Dohrer & Gerry Evenwel III ... 24 pages ... Walnut Group 100000 ... ISBN 0963083317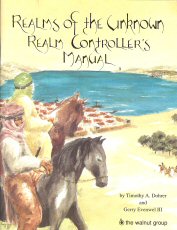 Realms of the Unknown: Realm Controller's Manual
"The book you are holding contains everything a Realm Controller needs to become part of the quickly growing Multiverse. This is the knowledge you need to run your own realm!
Begin by planning the realm, right down to a blade of grass. Include plants, animals, minerals, mountains, rivers, or volcanoes. Then begin gathering your players. You set them down on the realm and guide them through life's journey. Every now and then, throw them a challenge like a flood or earthquake, political dissension in the government, a failing economy, or even an attack from a nearby town. Then share in their excitement as they overcome the odds and triumph.
This book includes all statistical charts and information to run the ROTU Gaming System. It also includes a decades worth of knowledge from Realm Controllers across the country. Their helpful hints alone will save you valuable time and help you run the best realm possible."

1991 ... 82 pages ... WG 100001 ... ISBN 0963083309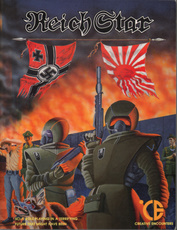 Reich Star: Sci-fi Role-playing in a Terrifying Future That Might Have Been
"1943: German V-4 atomic missiles devastate New York and London, ending "The War of Unification."
2134: The revolution begins...

Everything needed to play, including:
* Rules for character generation
* Character skills and abilities
* Psychic abilities
* All forms of combat
* Gaming in different environments
* 'Bots, 'borgs, and anthropomorphs
* 3 alien races
* starship construction
* A comprehensive guide to the social,political, economical, and military structure of the Third Reich and Empire of Nippon
* Introductory adventure module
* Plus much more

1990 ... Ken Richardson ... 241 pages ... Creative Encounters ... ISBN 0962742805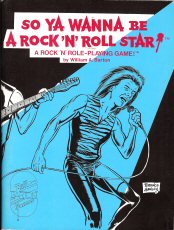 So Ya Wanna Be A Rock N Roll Star: A Rock N Role-Playing Game
"NOW YOU CAN BE A ROCK 'N' ROLL STAR AND:
Become the idol of millions of screaming fans!
See your first single climb the charts to Number 1!
Have the clothes torn from your body by rabid groupies!
Shamelessly plug your new video as a guest host on MTV!
Make a fool of yourself at the Grammy Awards! Be declared a bad influence on the youth of America!
Watch your latest album go triple platinum!
Watch all your royalties go to the dreaded Taxman!
Get the funniest looks from everyone you meet!
DO ALL THIS -- AND MORE!
IN THIS WILD AND CRAZY ROCK 'N ROLE-PLAYING GAME:
SO YA WANNA BE A ROCK 'N ROLL STAR!
(Becoming a Superstar has never been so easy ...!)"

1988, 1990 ... William A. Barton ... Bill Barton Games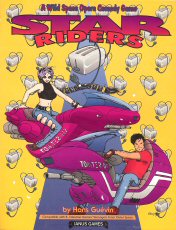 Star Riders: A Wild Space Opera Comedy Game
"A delirious role-playing game in the best (and funniest) space opera tradition!
When the Dadourunrun Conundrum Empire's bureaucrats slightly "misplace" Earth — the coolest planet in the Known Universe — during a galactic reorganisation, you start looking for if, of course! Live the great adventure, with the not-so clever Leroy and the beautiful Tabada. Explore the Known (and Unknown) Universe while visiting strange places and meeting even stranger beings!

STAR RIDERS is a wacky science-fiction role-playing game. It comes complete with rules, equipment and character stats. Star Riders is also compatible with the Teenagers From Outer Space role-playing game from R. Talsorian Games Inc."

1993 ... Hans Guevin ... 96 pages ... Ianus Games SR 01 ... ISBN 2921573105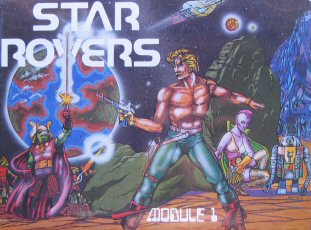 Star Rovers RPG: Module 1 [BOX SET]
"THE ULTIMATE SPACE ROLE PLAYING GAME
THE FIRST STEP in your journey to the outer limits of your imagination! This introductory module fuses the worlds of science and fantasy to form a space/fantasy role playing game which is easily learned by beginners, and gives the experience gamer future worlds rich in technology, equipment, and danger.
STAR ROVERS is a game system of interlocking modules which allow you to create whole universes to explore, and supplies you with everything necessary to generate realistic and well-rounded player characters. It is also an ideal sourcebook for ANY space role playing adventures. Complete rules allow you to quickly create deadly firefights, narrow escapes, and bizarre encounters in all conceivable times and places among the stars.
MODULE ONE CONTAINS over 130 pages of fully illustrated, easily-referred-to rules, Starship Floorplans, Quick Reference Sheets, 5 Dice, a Mapboard of Moondog Maude's Cantina, Encounter Charts, a Time Line Chart of all ages and technologies, and everything you need to create whole star systems and explore them. Journey with STAR ROVERS into the future and learn the incredible secrets that await you!"

1981 ... Archive Miniatures ??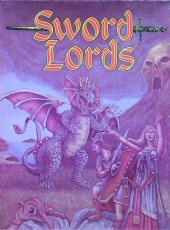 Sword Lords of the Eastern Regions [BOX SET]
This game set makes ample references to J.R.R. Tolkien's Middle Earth setting, and purports to tell the story of "Eastern Middle Earth."

CONTENTS:
• 44-page rule book
• Rules of Warfare sheet
• 2 each Magical Spells and Combat Results Table sheets
• 4 cardstock sheets of cut-out scenery and props
• 1 sheet of cut-out counters
• 3 fold-out hexagonal maps

"SWORD LORDS of the Eastern Regions is a complete and ready-to-play set of rules and game scenarios which carry your heroes on great adventures by land and sea across the forgotten reaches of Eastern Middle Earth.
SWORD LORDS is a fantasy adventure game which requires no bookkeeping and can introduce you within a few minutes to a whole world of elves and dwarfs, wizards and dragons, deadly demons and impossible quests, with untold treasures lying in wait for the brave and wise to claim.
SWORD LORDS is also a simplified set of miniatures wargaming rules for use with any fantasy miniatures which provide ever-expanding levels of complexity and detail, with all resolution procedures done on one or three six-sided dice, which are included in the game package along with a full color map, four-color counters for five different armies, separate combat odds tables, spell charts and capsule rules, along with a detailed rules booklet of over fifty pages, which allows adaptation of Sword Lords to ANY fantasy miniatures wargaming.
SWORD LORDS bridges the gap between the imaginative yet time consuming flavor of fantasy role playing games and the easy game mechanics of popular board games, and is ideal for beginning and advanced wargamers.
SWORD LORDS can be played solitaire or with two to five players, ages 12 and up, and provides hours of fantasy adventuring, with every scenario different. Pick up your sword and venture forth — Middle Earth awaits you."

1981 ... Archive Miniatures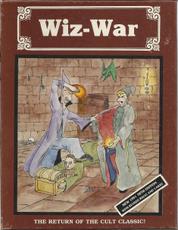 Wiz War (5th Edition) [BOX SET]
1991 ... Chessex 7000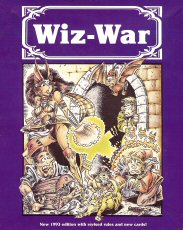 Wiz War (6th Edition) [BOX SET]
"CAST spells and steal treasures! You can read minds, blast fireballs, turn to mist, or use dozens of other spells available to you in the deck of cards. This game has been a beer-and-pretzels classic since its debut in 1985. Long-time fans now have a new version to enjoy and first-time players can see why this game has retained its popularity for so long.
THIS edition offers all new graphics and artwork by Phil Morrissey, revised and expanded rules, redrawn, enlarged and improved playing board, new spell cards and two-sided, free standing wizard playing pieces.
YOU must either nab two treasures from any of the other wizards, or eliminate all of them from the game to win. With an additional 6th Edition game you can , expand to 8 players. Wiz War is suitable for gamers age 10 to adult and has a playing time of 1 /2 to 1 hour.
THE new 6th Edition Wiz War contains: 1 rule book, 4 boards, 2 sheets of tokens, 125 spell cards and 1 die. May be enjoyed by 1 to 4 players."

1993 ... Jolly Games / Chessex ... Ches 7000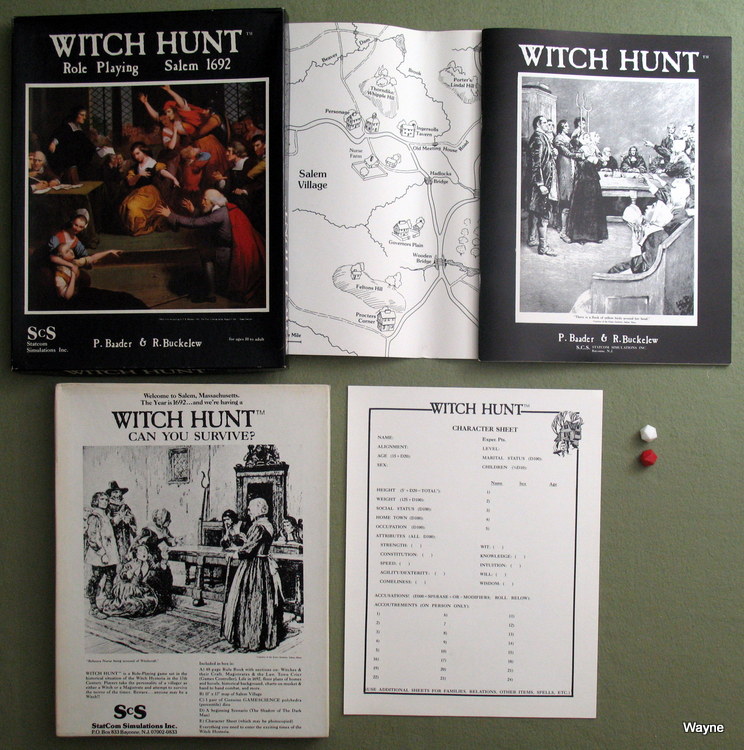 Witch Hunt: Roleplaying Salem 1692


See my game blog for a full photoshoot of this set:
WITCH HUNT: Role Playing Salem 1692 – Old School RPG Obscurity (1983)

-Wayne

Contents: A) 48 page Rule Book with sections on: Witches & their Craft, Magistrates & the Law, Town Crier (Games Controller), Life in 1692, floor plans of homes and hovels, historical background, charts on musket & hand to hand combat, and more. B) 11" x 17" map of Salem Village C) 1 pair of Genuine GAMESCIENCE polyhedra (percentile) dice D) A beginning Scenario (The Shadow of The Dark Man) E) Character Sheet (which may be photocopied) Everything you need to enter the exciting times of the Witch Hysteria.

1983 ... P. Baader & R. Buckelew ... Statcom Simulations Inc. (SCS 1600)

Check Wayne's Books Inventory

Amazon








---
| 2300 AD | 7th Sea | AD&D | Aftermath! | Albedo | Aliens | Arduin | Alternity | Amazing Engine | Amber Diceless | Ars Magica | Atlantis | Babylon 5 | Battletech | Boardgames / Wargames - Other | Boot Hill | Buck Rogers | Bushido | Call of Cthulhu | Castle Falkenstein | Chill | Chivalry & Sorcery | Conan | Cyberpunk | Cyborg Commando | Dark Conspiracy | DC Heroes | Deadlands | Doctor Who | DragonQuest | Dream Park | Dune | Dungeons & Dragons | Dying Earth | Earthdawn | Elfquest | Elric / Stormbringer | Everway | The Fantasy Trip | Foreign Language Roleplaying Games | Game of Thrones | Gamma World | GangBusters | Gear Krieg | Ghostbusters | GURPS | Harn | High Fantasy | Indiana Jones | James Bond | Jorune | Judge Dredd | Justifiers | Living Steel | Lords of Creation | Man, Myth & Magic | Marvel Super Heroes | Middle Earth Role Playing | Midkemia | Military Roleplaying Stockpile | Millennium's End | Miscellanea | Morrow Project | Mythus - Dangerous Journeys | Nightlife | Pendragon | Phoenix Command | Powers & Perils | Red Sonja | Renegade Legion | Riddle of Steel | Ringworld | Robotech | Rolemaster | Runequest | Shadowrun | Sovereign Stone | Space 1889 | Space Master | Space Opera - Other Suns | Star Ace | Star Frontiers | Star Trek | Star Wars | Super Hero RPGs | Talislanta | Talisman | Tekumel | Terminator 2 | Thieves' World | Timemaster | Top Secret | Traveller | Tribe 8 | Tunnels & Trolls | Twilight: 2000 | Villains & Vigilantes | Warhammer | Whispering Vault | Willow | Witchcraft | Ysgarth | CAMPAIGN BUILDING | RPG MAGAZINES | Avalanche Press | Avalon Hill | Bard | Chaosium | Columbia Games | Dream Pod 9 | Fantasy Games Unlimited (FGU) | FASA | Flying Buffalo | Game Designers Workshop (GDW) | Gamelords | Gamescience | Games Workshop | Judges Guild | Leading Edge Games | Mayfair Games | Metagaming | Pacesetter | Palladium | SPI | Steve Jackson Games | Tri Tac | TSR | Victory Games | West End Games | White Wolf | Wizards of the Coast | Yaquinto Publications |
---
| Return Home | What's New | Contact WaynesBooks.com |