Gamescience
Tekumel releases by Gamescience
BROWSE MY GAMESCIENCE ITEMS CURRENTLY IN STOCK

See also at my Game blog:
Poster-size Gaming Map Sheets Gamescience (ca. 1982)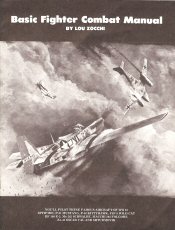 Basic Fighter Combat Manual
"YOU'LL PILOT THESE FAMOUS AIRCRAFT OF WW II:
SPITFIRE, P-51 MUSTANG, P-40 KITTYHAWK, F4F-3 WILD CAT, BF 109 E-3, Me 262 SCHWALBE, MACCHI 202 FOLGORE, Kl-43 OSCAR VAL AND SHTURMOVIK"

1976 ... Lou Zocchi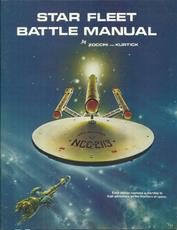 Star Fleet Battle Manual
"Each player captains a starship to high adventure on the frontiers of space."

1977 ... Lou Zocchi & Michael Scott Kurtick ... Gamescience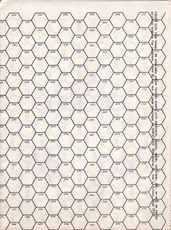 19mm Panzer Size hex map sheets
Six 22x35 inch 19mm hex sheets.

GS 10418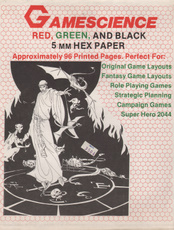 Red, Green, and Black 5mm Hex Paper
"Approximately 96 Printed Pages" Hexes in red, green, and black.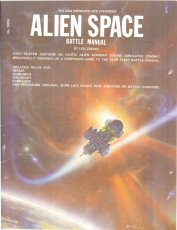 Alien Space Battle Manual
Though Gamescience is mentioned nowhere in the book, the typeset and product numbering are consistent with a Gamescience release.

The internal formatting is simply awful. Lou Zocchi decided to mix a catalog of games stocked by Zocchi Distributors right on the same pages as the rules text, with no defining breaks between text and advertising.

"EACH PLAYER CAPTAINS AN EXOTIC ALIEN STARSHIP DURING SIMULATED COMBAT SPECIFICALLY DESIGNED AS A COMPANION GAME TO THE STAR FLEET BATTLE MANUAL.

INCLUDES RULES FOR:
* REPAIR
* ECONOMICS
* DIPLOMACY
* CAMPAIGNS
* AND PRODUCING ORIGINAL SHIPS LIKE SINGLE SEAT FIGHTERS OR BATTLE CARRIERS."

1973, 1979 ... ?? pages + 2 cardstock pages of ships ... Lou Zocchi 10306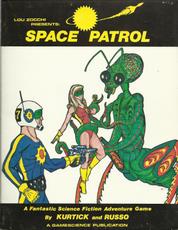 Space Patrol
"SEEK OUT ACROSS INFINITE SPACE THE ULTIMATE DESTINIES OF CHARACTERS IN YOUR CONTROL. TRAVEL TO NEW WORLDS AND DIMENSIONS FOR EXPLORATION AND TREASURE. MEET THE MYRIAD SENTIENT LIFEFORMS INHABITING A THOUSAND PLANETS AND PROVE YOUR RIGHT TO EXIST AMONG THEM. SPACE PATROL IS ALL THAT AND MORE. THIS SET OF RULES COVERS ALL FORMS OF PERSONAL COMBAT FROM ROCKS TD ATOMIC BLASTERS. IN ADDITION THERE IS CONTACT WITH ALIEN LIFEFORMS, LEARNING ABOUT NEW AND STRANGE DEVICES, CONSTRUCTING REALISTIC SCENARIOS, AND THE RANDOM GENERATION OF ALIEN INTELLIGENCES AND CREATURES. SUCH DIVERSE ELEMENTS AS "PSIONICS" AND GRAVITY ARE ALSO DEALT WITH. SPACE PATROL REQUIRES PENCILS, LOTS OF PAPER, REGULAR AND POLYHEDRA DICE, AND LAST BUT NOT LEAST, A SENSE OF WONDER."

1977 ... Lou Zocchi & Michael Scott Kurtick & Rockland Russo ... 25 pages ... Gamescience #??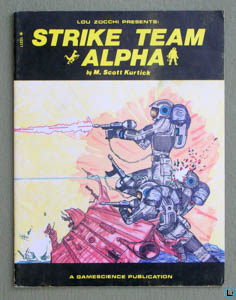 Strike Team Alpha
"11 EXCITING SCENARIOS RECREATE FUTURISTIC MAN-TO-ALIEN COMBAT FOUGHT IN THE DEPTHS OF SPACE WITH EXOTIC WEAPONS. A BLANK MAPBOARD AND UNMOUNTED COUNTERS ARE INCLUDED TO MAKE SCENARIOS GAMEABLE AS A MINIATURES TABLETOP ADVENTURE OR A BOARDGAME. THE RAL PARTHA 'GALACTIC GRENADIER' FIGURES WERE SPECIFICALLY CREATED TO COMPLIMENT THIS GAME IN BOTH FORMATS. THOROUGHLY TESTED FOR EASE OF PLAY AND FAST ACTION BY EXPERIENCED WARGAMERS AND SCIENCE FICTION FANS, INCLUDING HUGO-NOMINEE GEORGE ALEC EFFINGER."

1978 ... M. Scott Kurtick ... 16 pages ... GS 10311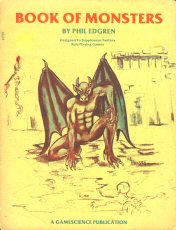 Book of Monsters
"This intriguing book tells how to incorporate more than 120 rare and unusual monsters into todays most popular fantasy role playing games. Most of the authentic creatures described by this work were taken from the folklore of Eskimo, Oriental, Babylonian and other exotic cultures. These unique and legendary monsters, not listed in other works, will add new dimensions of terror and excitement to your games."

1978 ... Phil Edgren ... Gamescience 10410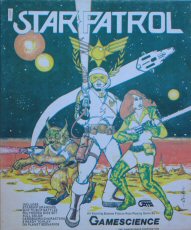 Star Patrol Role Playing Game [BOX SET]
"STAR PATROL is a comprehensive, science fiction oriented, role playing game which simulates ship to ship combat as well as on planet adventures.
Players create interesting characters, creatures, aliens and robots by rolling for strength, dexterity, luck, constitution, personality, mentality, locomotion/manipulation, sex, metabolism, size, movement, profession, special capabilities, cyborg replacement, period, psionics, special weapons, capabilities, size, number, eating habits, reactions, etc.
Movement rules include options for fatigue, gravity and special equipment like
jet belts, contra-gravity platforms, hand computers, head-up displays, inertial compass,
intertron harness, infrared goggles, medi-kit, power harness, exo-skeleton, psionic amplifier, pressure tent, starlight goggles, and tricorder with mass tables and costs for each.
You'll find 34 different types of contact weapons, 32 types of armor, 13 types of shielding, 77 types of ranged weapons from rocks to power cannons and phasers. 32 different types of aliens, taken from many of the most popular S.F. classics, are defined in detail so that they can be incorporated, or new ones created.
All tables, charts and graphs needed for play are repeated in the central pull out section so that the mission master has quick reference to needed information.
Starship combat rules include anti-acceleration fields, hyperdrive, an encounter generation system, combat rules, a space vector movement ruler, 20 military spacecraft and 11 civilian types plus spaceship modification rules and customizing with 18 different spaceship weapons, weapon accuracy tables, missile damage and hit location tables, as well as scale drawings and reproduceable counters for table top or mapboard play. Fuel consumption, refueling, space travel, random events tables, alien spacecraft mission tables, black holes, faster than light travel, star mapping, planet types and probabilities, orbit patterns, gravity tables, life form probabilities, resources, trade and exploration bounties as well as trade restrictions and planetary interests are also covered.
A random scenario generator enables mission masters to run entire random adventures by rolling up landing zones, terrain, weather, encounters with creatures, artifacts, aliens, resources and hazards, as well as copeing with meteor storms, radiation, dust pools, treacherous footing and unknown surfaces.
5 READY TO PLAY SCENARIOS INCLUDE
* shipwrecked crewmen attempting to survive on the hostile planet Flamaraii with salvaged equipment. Can they find their way home?
* Professional adventurers scour the spaceport searching for someone who can pay for their special skills. Chances to become a pirate, mercenary or bootlegger are as frequent as opportunities to join the Space Patrol, Merchant service or other legitimate organizations.
* A marine strike force has been ordered to find and destroy the secret T'Rana outpost on a remote planet outside the Leagues blockade. Since T'Rana troopers are controlled by psionic leaders, chances for surprise are nil!
* A derelict starship must be boarded to discover the fate of its missing crew.
* A strike team searches the tunnel complex of pseudo-arachnids in search of brain bug leaders and/or human prisoners. This fast playing, excitement packed scenario can be played SOLO!

CONTENTS:
This game has 24 full color cardboard characters and aliens, in 25mm scale to match the 25mm scale ship plans provided for the derelict starship adventure, as well as a star map of the league star system, a blank 22 X 35 inch hex mapsheet, full set of GAMESCIENCE brand HIGH IMPACT polyhedra dice and options for portraying authentic space movements with a TI-58 or TI-59 programable calculator."

1981 ... Gamescience 10103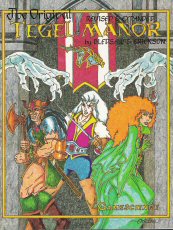 The Original Tegel Manor: Revised & Expanded
See also the REAL original Tegel Manor, by Judges Guild.

"TEGEL MANOR is one of the best known and most challenging adventure classics ever created by Judges Guild author Bob Bledsaw.
It has now been comprehensively revised, expanded and improved by Wizards' Realm author Niels Erickson, and modified to work with all role-playing systems.
Designed for medium to highly skilled characters, this volume will provide well over a hundred hours of gaming, particularly for adventurers who seek to penetrate every secret connected with the foreboding old fortress. Parties will encounter numerous adventure situations as they make their way through Tegel Village and the grounds surrounding the manor.
Once inside that ancient edifice, they can explore its more than 200 rooms and hallways -- libraries, temples, galleries and much more -- as well as its four underground-level dungeons.
This infamous haunted manse is fraught with deadly perils! In its labyrinthine passageways lurk menaces, monstrosities and magicks fell and foul. A moderately-experienced Gamemaster will find that the extensively detailed room descriptions quickly set the scene and mood for the excitement to follow. In addition to the usual quests for wealth, powerful magicks or glory, GMs will easily find more than 50 compelling reasons for sending heroic adventurers into TEGEL MANOR: Can they find the accursed gem, the Heart of Darkness? Can they root out the evil which emanates from the fortress to threaten the surrounding countryside? Can they locate the Cauldron of Regeneration or the other potent wizardry hidden here -- flying carpets, magical statues and more? Can they liberate a most unique prisoner and complete a quest for justice? Or close the portal to Hell itself?
In addition to werewolves, vampires and liches, evil spirits and sinister secrets, one may encounter wry humor or fiendish puns -- and perhaps the rare tome or important alchemist's aid to be found therein.
TEGEL MANOR can provide many sessions of mesmerizing mystery and frantic action for your campaign, with whatever fantasy role-playing game system you favor.
Included are a Gamemaster's and players' versions of the map of the manse itself, as well as maps of the levels below, and of the surrounding countryside. Area background and notable NPCs are described in detail, while a separate section enumerates the diabolical denizens who make the fortress their home. Other play-aids include tables for dire magics and optional additions to the perils already present, along with Universal Format information.
(Tegel Village is also located on the maps of The City-State of the Invincible Overlord, now published by Mayfair Games, which could provide many other possible tie-ins for your campaign.)"

1989 ... 40 pages + 17x22" Referees Map + 11x17" Players Map ... Gamescience #??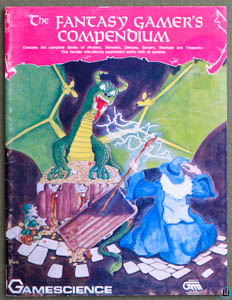 Fantasy Gamers Compendium
"Contains the complete Books of Mystery, Monsters, Demons, Sorcery, Shamans and Treasures. This fantasy role-playing supplement works with all systems."

1983 ... 53 pages ... Gamescience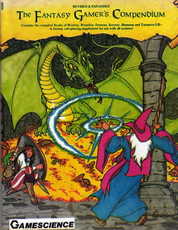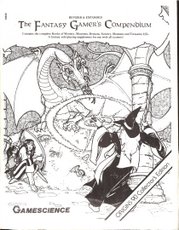 Fantasy Gamer's Compendium, Revised and Expanded
Two editions: One with a color cover and the Origins '90 Collector's Edition, with a black & white cover.

"BOOK of MYSTERY
Introducing the Order of the Lords of Mystery, a new character-class complete with its own Skill System, suitable for incorporation into any fantasy role-playing adventure.

BOOK of MONSTERS
A sourcebook containing fully 124 fantastic creatures drawn from the world's folklore and myth, with information for easy adaptation to your fantasy campaign.

BOOK of DEMONS
The lore of ceremonial Black Magic adapted for the fantasy gamer, complete with a listing of over 80 demons derived from medieval European traditions, the Bible, the Kabala and other authentic sources.

BOOK of SORCERY
Rules for the casting (and miscasting!) of spells and the use of incantations in magic, as well as a list of over three dozen Major and Lesser Artifacts, all compatible with your FRP campaigns.

BOOK of SHAMANS
A new category of Magic-user whose powers, grounded in primitive cultures, are unlike any other -PLUS nine levels of spell knowledge especially for its use.

BOOK of TREASURE
Not one, but TWO lists of treasures-two books in one: The first derives from authentic mythologies for use in worlds where magic is commonplace but high technology is not. The second, inspired by modern works of Science Fiction and Fantasy, is for universes which contain advanced technology - or the ruins of it!

Seven books in one, for use with your favorite fantasy role-playing system!"

1990 ... Phil Edgren & Dan Bress & Ed Konstant & Ed Lipsett ... 55 pages ... Gamescience 10330 ... ISBN 092268300X








---
| 2300 AD | 7th Sea | AD&D | Aftermath! | Albedo | Aliens | Arduin | Alternity | Amazing Engine | Amber Diceless | Ars Magica | Atlantis | Babylon 5 | Battletech | Boardgames / Wargames - Other | Boot Hill | Buck Rogers | Bushido | Call of Cthulhu | Castle Falkenstein | Chill | Chivalry & Sorcery | Conan | Cyberpunk | Cyborg Commando | Dark Conspiracy | DC Heroes | Deadlands | Doctor Who | DragonQuest | Dream Park | Dune | Dungeons & Dragons | Dying Earth | Earthdawn | Elfquest | Elric / Stormbringer | Everway | The Fantasy Trip | Foreign Language Roleplaying Games | Game of Thrones | Gamma World | GangBusters | Gear Krieg | Ghostbusters | GURPS | Harn | High Fantasy | Indiana Jones | James Bond | Jorune | Judge Dredd | Justifiers | Living Steel | Lords of Creation | Man, Myth & Magic | Marvel Super Heroes | Middle Earth Role Playing | Midkemia | Military Roleplaying Stockpile | Millennium's End | Miscellanea | Morrow Project | Mythus - Dangerous Journeys | Nightlife | Pendragon | Phoenix Command | Powers & Perils | Red Sonja | Renegade Legion | Riddle of Steel | Ringworld | Robotech | Rolemaster | Runequest | Shadowrun | Sovereign Stone | Space 1889 | Space Master | Space Opera - Other Suns | Star Ace | Star Frontiers | Star Trek | Star Wars | Super Hero RPGs | Talislanta | Talisman | Tekumel | Terminator 2 | Thieves' World | Timemaster | Top Secret | Traveller | Tribe 8 | Tunnels & Trolls | Twilight: 2000 | Villains & Vigilantes | Warhammer | Whispering Vault | Willow | Witchcraft | Ysgarth | CAMPAIGN BUILDING | RPG MAGAZINES | Avalanche Press | Avalon Hill | Bard | Chaosium | Columbia Games | Dream Pod 9 | Fantasy Games Unlimited (FGU) | FASA | Flying Buffalo | Game Designers Workshop (GDW) | Gamelords | Gamescience | Games Workshop | Judges Guild | Leading Edge Games | Mayfair Games | Metagaming | Pacesetter | Palladium | SPI | Steve Jackson Games | Tri Tac | TSR | Victory Games | West End Games | White Wolf | Wizards of the Coast | Yaquinto Publications |
---
| Return Home | What's New | Contact WaynesBooks.com |