Historical Campaign Guides: Everyday Life In...

"Everyday Life" Guides

Though intended for authors, these guides would provide invaluable assistance in the creation of a historical role playing game campaign. Each one addresses a particular historical era.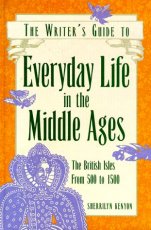 Middle Ages: The British Isles from 500 to 1500
"So there's a few historical inaccuracies. So the cover is that goofy orange, with Queen Elizabeth (though she shows up nowhere in the book). So it's filled with silly photos taken from a low-budged Renaissance Festival.

I still found this book EXTREMELY useful. The reviewer that said that you should use this as a springboard hit the nail right on the head. No, the facts aren't extremely detailed. No, they're broad-ranging. But it's enough presented here to get your imagination working, and several books are listed to check out for further information.

I found the clothing timeline to be very interesting and detailed (and accurate for the most part). Plenty of information on festivals, holidays, musical instruments, vocabulary you might use, etc. There's even a nice long listing of saints, and some of the Crusades.

The thing to remember is that this is a writer's guide only. If you're looking for quick facts, this book is perfect for you. If you don't want to fish around in 8 medieval textbooks to find out what your hero might have eaten for dinner, get this book. Sherrilyn Kenyon is a romance author and quite honestly, if you're a romance author looking to pick up some easy facts on English history for some research, this is your book. Those actually trying to do in-depth research will, most likely, be disappointed." ...from Amazon user "syriously"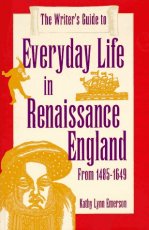 Renaissance England: From 1485-1649
"Feeling a bit "elf-shot" these days? Perusing this recent addition to the Writer's Digest's Writer's Guide history series will take your mind off such troubles. It has information on everything from Shakespearean-era postal systems to waterways to holidays to diets; it also defines contemporaneous lingo like the aforementioned supernatural malady. It's the next best thing to a time machine." ...Amazon.com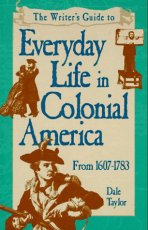 Colonial America 1607-1783
"The Writer's Guide series is intended to "syntheize the many facts available into concepts that help you understand the period without excessive study," to quote the author's introduction, and in that this volume of it succeeds well. Of course, in a book of this size, such a large number of subjects can only be covered in a fairly superficial manner, but the extensive bibliographies do help by providing pointers to other useful works. And since social histories always tend to be thinner on the ground than mainstream ones (battles and kings and Parliaments), any comprehensive book on the subject is welcome.

The book starts out with a general timeline, then offers a regional overview of the major developments and occurrences in each of four major regions, and goes on to touch on everyday life (food and drink, architecture, clothing and accessories, marriage and family), government and war (including "money, economy, trade, travel, and navigation"), and Colonial society (arts and sciences, trades, professions, religion). Period terms and unusual colloquialisms are emphasized by a special typeface. Though the illustrations are relatively few, they are clear and well-chosen, and there are several sidebars showing such things as weights and measures and the sequences of commands used in artillery and in matchlock-rifle companies. It may simply be because I don't often have occasion to look into social histories of this era (my period is more likely to be 1840-90), but I found that this one provided me with quite a lot of useful information. Writers and casual students alike should be able to say the same." ...from Amazon user "chrijeff"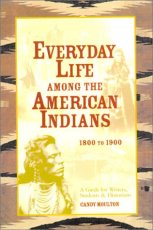 Among the American Indians 1800-1900
"The lives of American Indians and the vital role they played in American history has been riddled with stereotypes and falsehoods. Everyday Life Among the American Indians corrects decades of misinformation with insightful, accurate scholarship that belongs on the shelf of anyone interested in reading--or writing--the real story.
Covering more than 500 tribes and utilizing maps, illustrations, chronologies, and detailed overviews of day-to-day life, this invaluable reference for writers, researchers and students is at once comprehensive yet strikingly accessible. From the Louisiana Purchase to the Trail of Tears to Wounded Knee and beyond, author Candy Moulton vividly portrays the disappearing cultures of 19th century American Indians with dignity and dynamic detail, including information on:

* Tribal leadership and religion
* Weaponry and warfare
* Food and shelter
* Tools and medicine
* Languages and customs
* Crime and punishment
...Amazon.com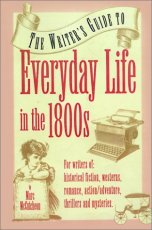 The 1800s
"A superb reference for writers, researchers, students and teachers, this dictionary-style book illuminates everyday life in the 1800s, decade by decade. Readers will find hundreds of otherwise obscure facts about:
* Popular slang--from the range to the underworld
* How to furnish a farmhouse or outfit a barn
* How much it cost for a shot of whiskey or to mail a letter
* Styles of the fashionable--and not so fashionable
* Courtship and marriage rituals
* Popular food and drink--including brand names
...from Amazon.com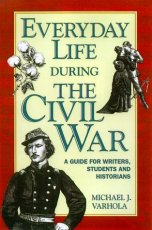 During the Civil War
"This exceptional book will be applauded by writers, students, historians and casual readers alike. From soldiers and statesmen to farmers and firing lines, Everyday Life During the Civil War offers an in-depth exploration of this fascinating era.
Using dozens of illustrations, timelines and maps, Michael J. Varhola illuminates the details of Northern and Southern economy; town and country living; food and the impact of war on diet; popular entertainment; clothing; military life; tools and weapons; slang and much more.
Also includes a thorough appendix of resources, featuring books, websites, historic locations and living history organizations." ...from Amazon.com





Age of Enterprise 1865-1900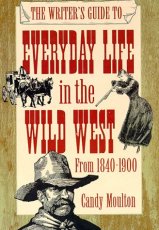 Wild West 1840-1900
"More than just a reference book, this guide provides readers with an in-depth exploration of the lives and time of those on the frontier. 40 photos."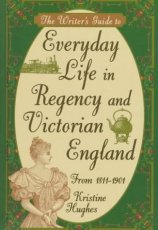 Regency and Victorian England: From 1811-1901
"While interesting and entertaining, this should not be considered a definitive guide to daily life in Regency and Victorian England. Kristine Hughes does a good job of giving the reader examples of historical writings on subjects such as etiquette and dress. Nevertheless, these few anacdotal resources do not constitute authoritative evidence that this is actually how people behaved in their everyday life. Just as a modern etiquette book reflects an idealized view of modern life rather than an accurate picture of how we really live, these original sources do not necessarily reflect the real lifestyles of the times. So long as you keep this caveat in mind, you will find this a very entertaining and readable book. The scope is extensive - everything from household appliances to travel to the various social institutions. There are many topics that will peak your interest, but consider this to be just the starting point for your research." ...from Amazon user "seattleatty"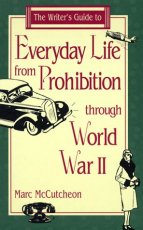 From Prohibition Through World War II
"Not just for writers, but historians, hobbyists, and anyone interested in the small details of life in other times. This volume, like the others in the series, includes chapters (with figures and illustrations) on food, clothing, family life, work, education, religion, leisure activities, social and political history, etc. Great for browsing, great for research. Well recommended." ...from Amazon user "RRiis"






---
| Everyday Life | La Conquista Campaign | Weapon books |
---
| 2300 AD | 7th Sea | AD&D | Aftermath! | Albedo | Aliens | Arduin | Alternity | Amazing Engine | Amber Diceless | Ars Magica | Atlantis | Babylon 5 | Battletech | Boardgames / Wargames - Other | Boot Hill | Buck Rogers | Bushido | Call of Cthulhu | Castle Falkenstein | Chill | Chivalry & Sorcery | Conan | Cyberpunk | Cyborg Commando | Dark Conspiracy | DC Heroes | Deadlands | Doctor Who | DragonQuest | Dream Park | Dune | Dungeons & Dragons | Dying Earth | Earthdawn | Elfquest | Elric / Stormbringer | Everway | The Fantasy Trip | Foreign Language Roleplaying Games | Game of Thrones | Gamma World | GangBusters | Gear Krieg | Ghostbusters | GURPS | Harn | High Fantasy | Indiana Jones | James Bond | Jorune | Judge Dredd | Justifiers | Living Steel | Lords of Creation | Man, Myth & Magic | Marvel Super Heroes | Middle Earth Role Playing | Midkemia | Military Roleplaying Stockpile | Millennium's End | Miscellanea | Morrow Project | Mythus - Dangerous Journeys | Nightlife | Pendragon | Phoenix Command | Powers & Perils | Red Sonja | Renegade Legion | Riddle of Steel | Ringworld | Robotech | Rolemaster | Runequest | Shadowrun | Shatterzone | Sovereign Stone | Space 1889 | Space Master | Space Opera - Other Suns | Star Ace | Star Frontiers | Star Trek | Star Wars | Super Hero RPGs | Talislanta | Talisman | Tekumel | Terminator 2 | Thieves' World | Timemaster | Top Secret | Traveller | Tribe 8 | Tunnels & Trolls | Twilight: 2000 | Villains & Vigilantes | Warhammer | Whispering Vault | Willow | Witchcraft | Ysgarth | CAMPAIGN BUILDING | RPG MAGAZINES | Avalanche Press | Avalon Hill | Bard | Chaosium | Columbia Games | Dream Pod 9 | Fantasy Games Unlimited (FGU) | FASA | Flying Buffalo | Game Designers Workshop (GDW) | Gamelords | Gamescience | Games Workshop | Judges Guild | Leading Edge Games | Mayfair Games | Metagaming | Pacesetter | Palladium | SPI | Steve Jackson Games | Tri Tac | TSR | Victory Games | West End Games | White Wolf | Wizards of the Coast | Yaquinto Publications |
---
| Return Home | What's New | Contact WaynesBooks.com |